Don't know what to eat every day? Python to tell you! Generate recipes and don't worry about what to eat every day!
2022-01-30 06:34:58 【Programming small code farmer】
Introduction
      I believe many people have such a worry , Every day when I come home from work, I think for a long time about what to do and eat today , Stir fried meat with chili , Only yesterday , Hot and sour shredded potatoes were made a few days ago ! In short, every day I think about what to eat at home today , How do you do it? ! If you ask me why I don't order takeout , First, the takeout may not be very clean , Don't worry about eating , Second, a lot of takeout food is too bad , Especially the powder I eat every morning , That powder shop can be opened , I might as well grab some bone soup and eat noodles in the morning ! It's terrible , So I'll have one today. What menu did it give me , Let's just do something ! So you don't have to think about it every day , If you can use , I can share it with you directly , The source code is at the end of the article !
I have enough to eat , Make a recipe generator , Random generation " Three dishes and one soup ", Perfect solution to the difficulty of buying vegetables ~
​
Project brief introduction
from " Under the kitchen " Crawling 【 Home Dishes 】【 Kwai Chi 】【 Serve a meal 】【 Soup soup 】 The most popular of the four dishes , Save in csv file , Make an interface , Randomly generate recipes of three dishes and one soup , The recipe contains the name of the dish , The ingredients , score , Tutorial links , And display the food words cloud in the interface , User repeatable , Recipe can be generated many times :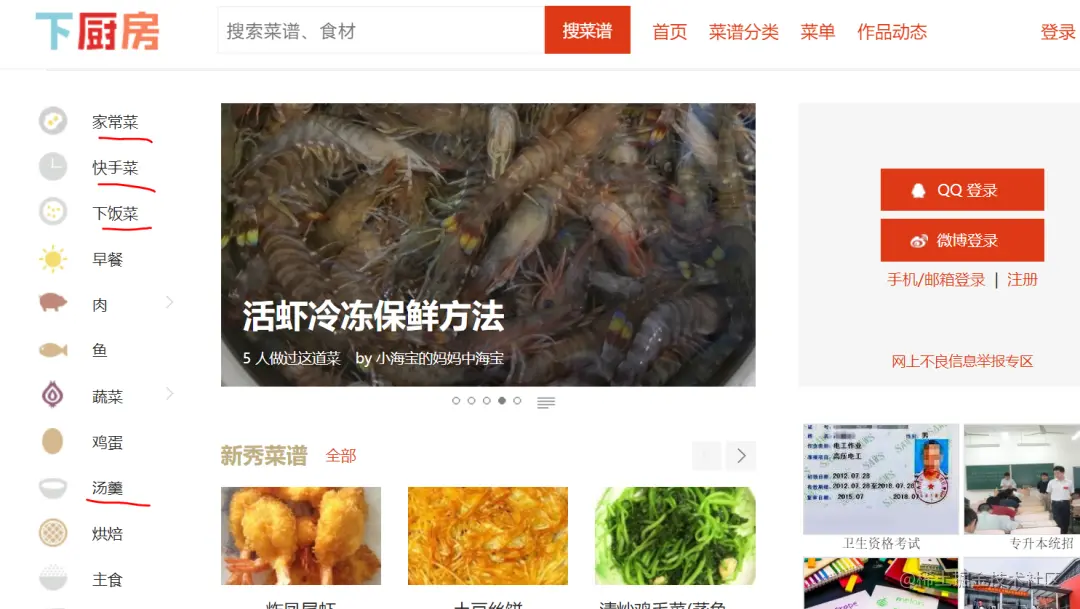 ​
Result display
function ui_support.py file :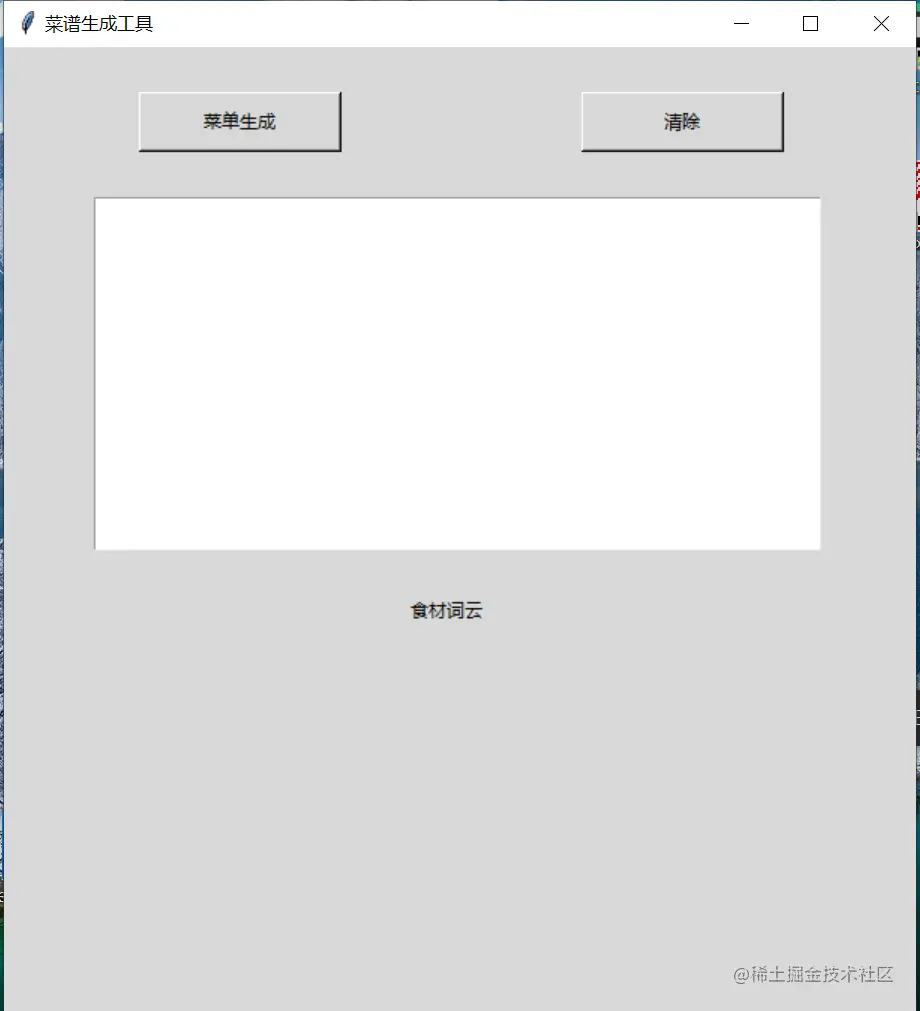 ​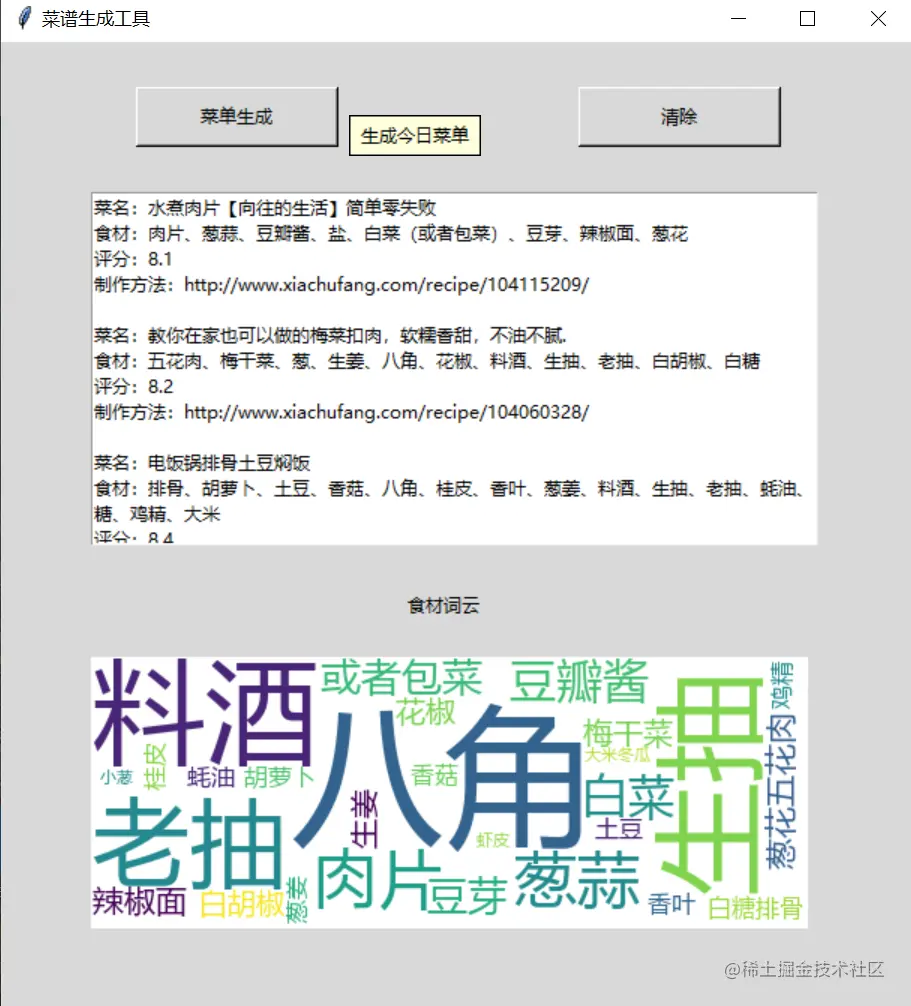 ​
If not satisfied , You can also click 【 eliminate 】 Button , Continue to regenerate ~
Knowledge point
From this project , You can learn the following :
1. Basic process of reptile
2.xpath Extract the data
3. establish , write in , Read csv
4.pandas Randomly selected data sample()
5.DateFrame To List
6.ui Generation tool page Use
7. Based on build ui Code , Add event trigger logic
8. Ci cloud production
Project process
There is one in the project file read.txt file , It also describes the module division of the project .
spider.py For crawler files , Crawling the data we need , The logic is : establish csv, establish url Post traversal access , Extract the data , write in csv.
In the csv There is a question , Open it and it will be a mess , Set to utf8,gbk Can't work normally wps Show , But with txt Open is normal display , After testing , stay ui The interface display is normal , This is because there are some emoticons in the ingredients , Acquired csv No processing required :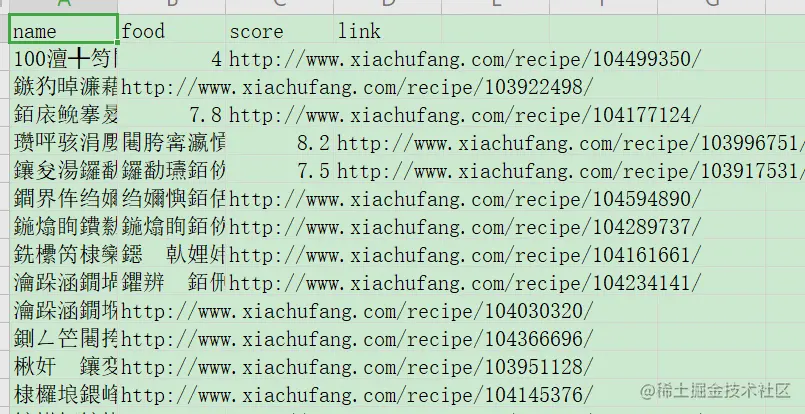 ​
Next up ui Interface , Used page Tools to generate interface code , Refer to for the installation and configuration of this tool :
《Python Script GUI Interface generation tool 》
Xiaobian, it's designed here , Just a little bit more :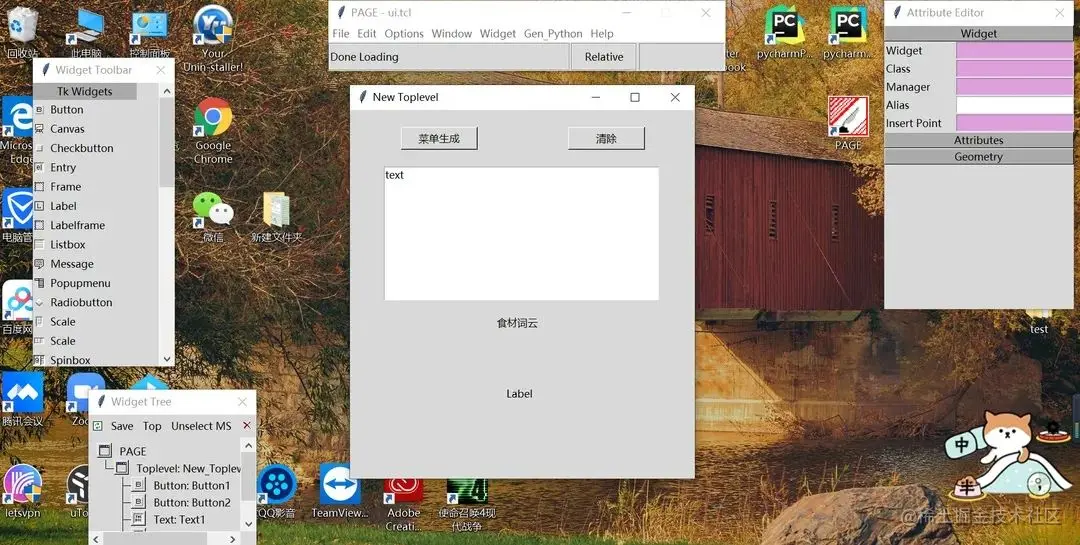 ​
From left side "Widget Toolbar" Control bar , Select the corresponding control to the middle window , For button controls , We need to add trigger command , Click on " generate menu " It will run the corresponding logic .
Choose " Menu generation " Control , Choose again "Attribute Editor" Hurdles "Attribute" , stay "command" Write trigger function name ,"text" "tooltip" Display for text , Prompt label :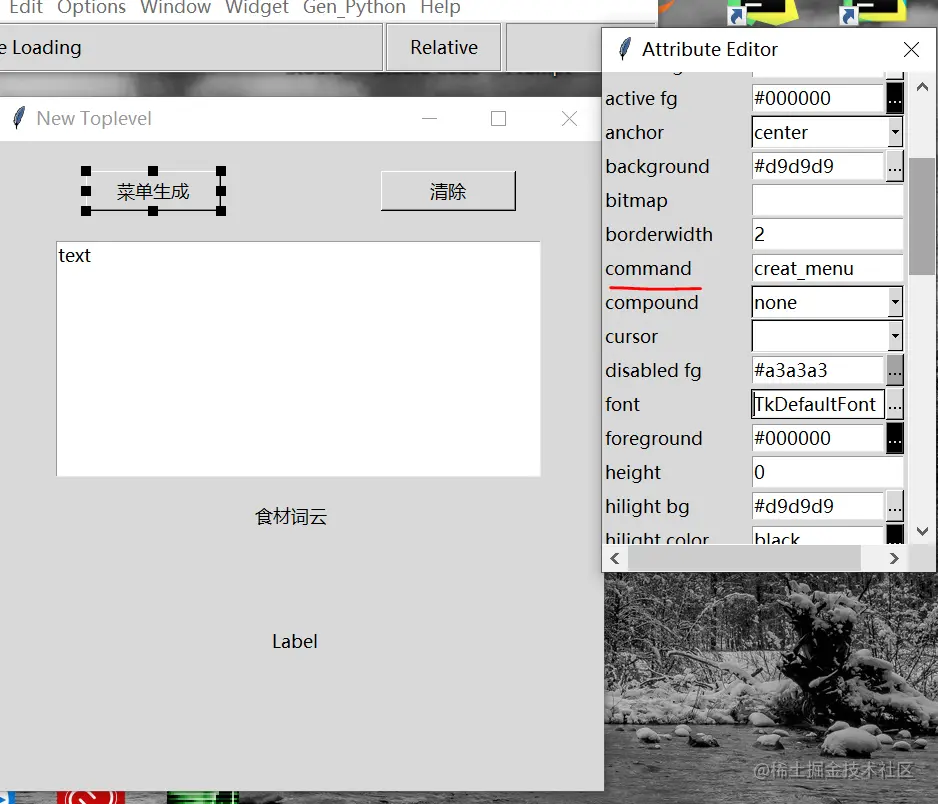 ​
After design , First save , The name of the saved file is ui, It is saved as ui.tcl file , Now save the interface code :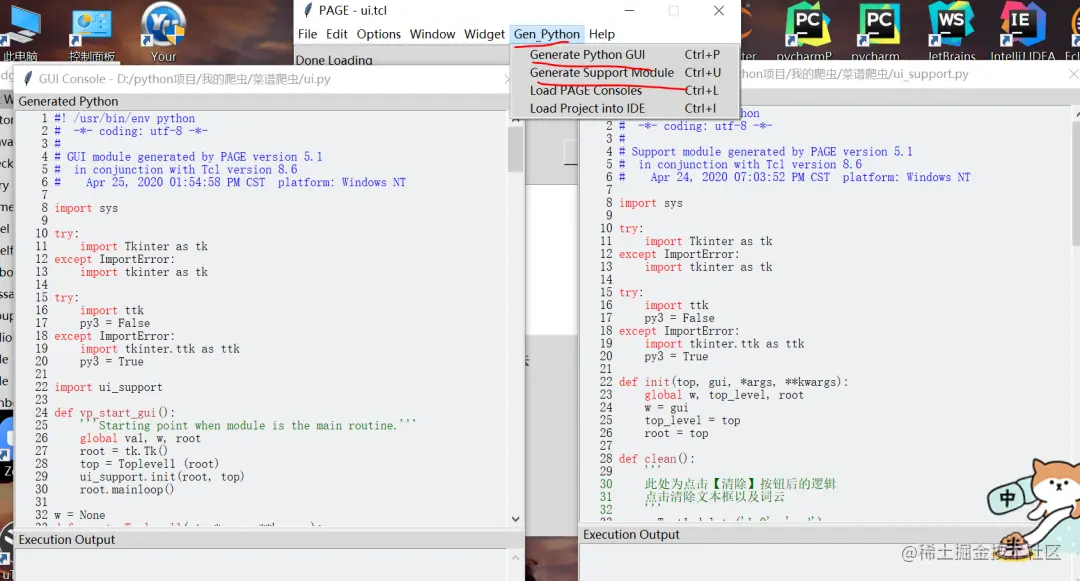 ​
Click the respectively "Save" Save these two files , Will be saved in and ui.tcl Same directory for .
"python GUI" It's interface logic , The saved file name is ui.py, No need to move .
"Support Module" Is the trigger event code , Our corresponding logic is to add :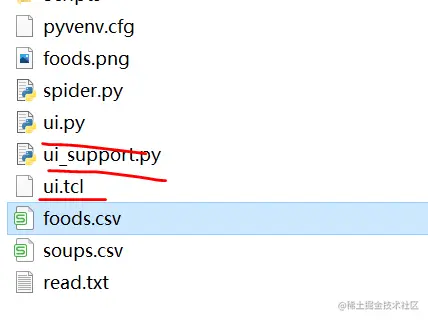 ​
open ui_support.py , Found set "command", Function name :
​
clean Function is click 【 eliminate 】 After button , Clear text box :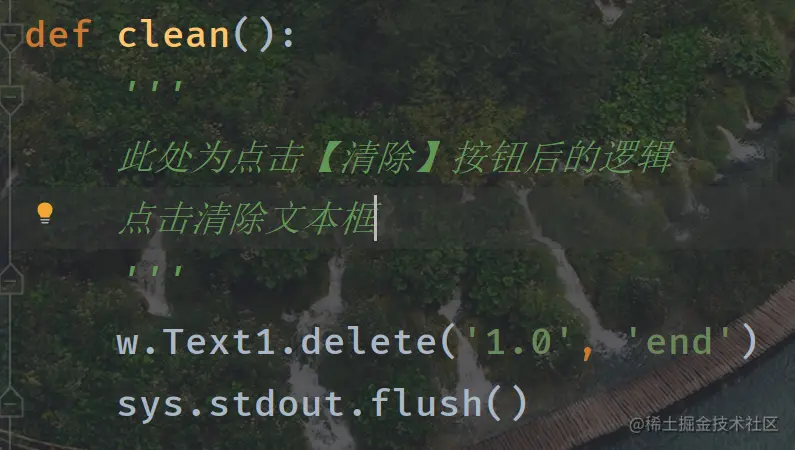 ​
creat_menu Function is click 【 Generate recipes 】 Logic after button , from csv Randomly selected three dishes and one soup in the text box , Show word cloud in tab bar .
It is mainly : Read csv,DataFrame Turn into list, Merge 【 Three dishes and one soup 】, Make menu text , Preservation of food words , Menu text box insert , Word cloud generation , Parenthesis cloud :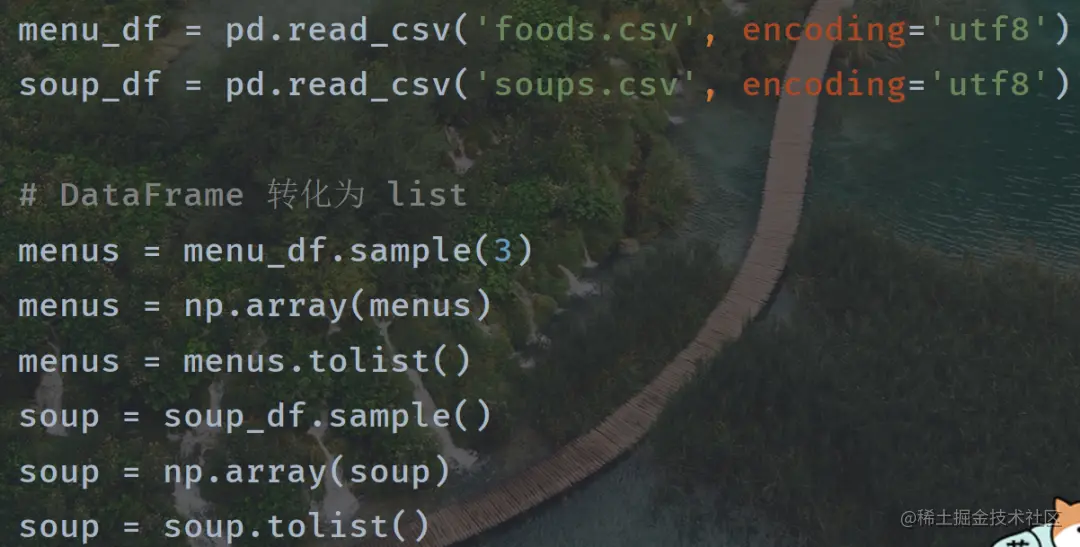 ​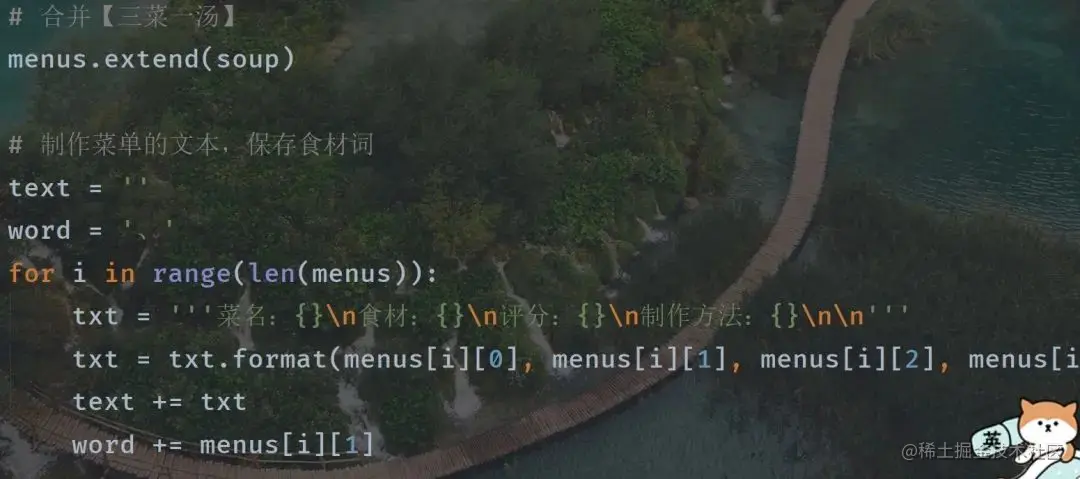 ​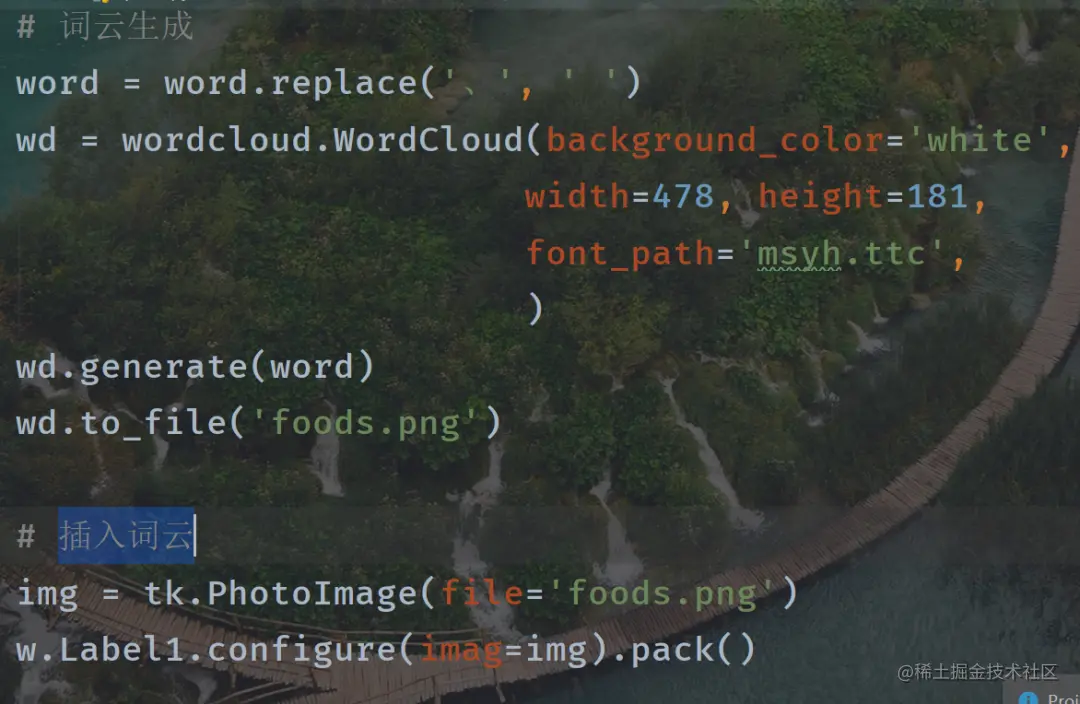 ​
So all the logic is done , function ui_support.py You can start the recipe generation ~
​
**
The source code for **
You need the complete source code of this article. Click here to get
copyright notice
author[Programming small code farmer],Please bring the original link to reprint, thank you.
https://en.pythonmana.com/2022/01/202201300634571381.html