Python, Hough circle transformation in opencv
2022-01-30 17:12:50 【Program yuan one_ Shining Xiaomei】
Python,OpenCV Hoff circle transformation in
This blog will learn how to use Hoff circle transform to find circles in images ,OpenCV Use cv2.HoughCircles() Realize Hough circle transformation .
circles = cv2.HoughCircles(img, cv2.HOUGH_GRADIENT, 1, 20, param1=50, param2=40, minRadius=25, maxRadius=0)

img: Gray scale image to be detected
cv2.HOUGH_GRADIENT: The method of detection , Hough gradient
1: The detected circle has the same size as the original image ,dp=2, The detected circle is half of the original image
20: The minimum distance between the centers of adjacent circles detected ( If the parameter is too small , Except for a real circle , It is also possible to erroneously detect multiple adjacent circles . If it is too big , Some circles may be missed .)
param1: stay #HOUGHŠu In the case of gradients , It's higher . Two thresholds are passed to Canny Edge detector ( The lower one is twice as small ).
param2: stay #HOUGHŠu In the case of gradients , It is the accumulator threshold of the center of the circle in the detection stage . The smaller it is , The more likely it is to detect false circles ;
minRadius: Minimum circle radius
maxRadius: Maximum circle radius , If <=0, The maximum image size is used . If <0, The center of the radius is not found .
1. design sketch
The original picture VS The effect drawing of detection circle is as follows :
As shown in the right figure below 3 An outer round green , The center red is successfully detected ;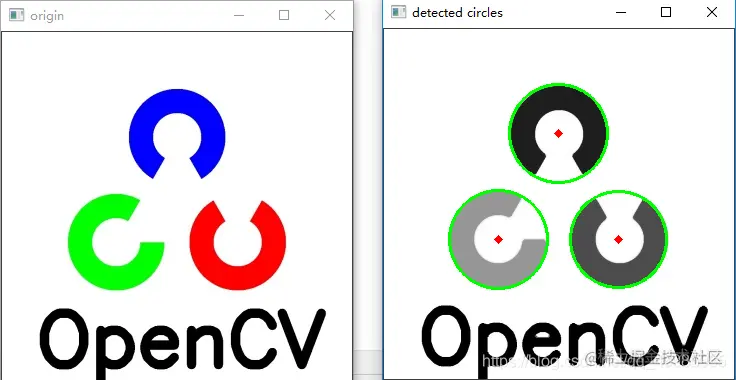 The minimum radius of the circle is set by 25 Adjusted for 10, The circle may also be detected incorrectly , The renderings are as follows :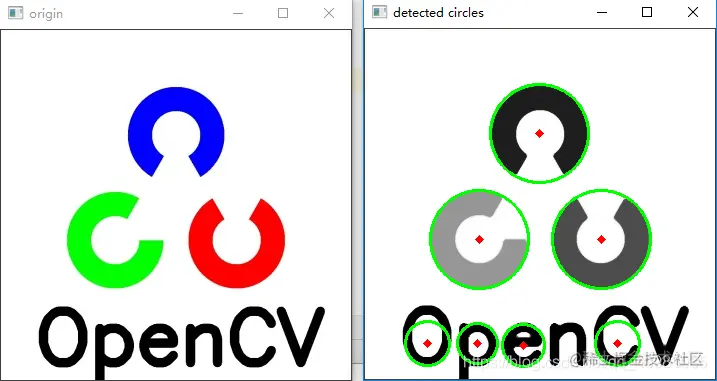 Threshold value for detecting circle radius (param2 Set up 35) Result , Minimum circle radius setting 10, The circle may also be detected incorrectly , The renderings are as follows :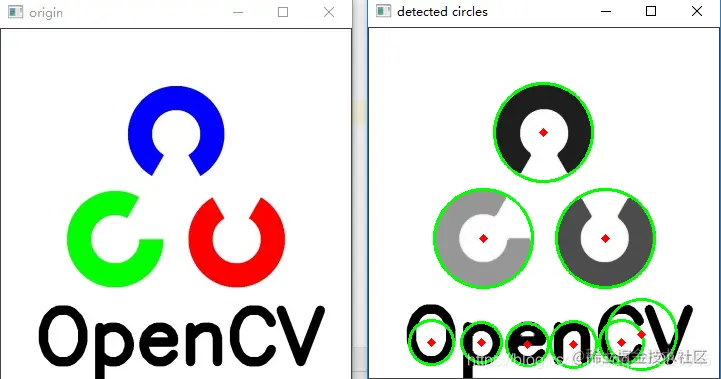 2. Source code
#  Hoff circle test 





import

 cv2


import

 numpy 

as

 np

cimg = cv2.imread(

'opencv_logo_350.jpg'

)
cv2.imshow(

"origin"

, cimg)
cv2.waitKey(

0

)
img = cv2.cvtColor(cimg,cv2.COLOR_BGR2GRAY)
img = cv2.medianBlur(img, 

5

)
cimg = cv2.cvtColor(img, cv2.COLOR_GRAY2BGR)



# - img:  Gray scale image to be detected 




# - cv2.HOUGH_GRADIENT: The method of detection , Hough gradient 




# - 1: The detected circle has the same size as the original image ,dp=2, The detected circle is half of the original image 




# - 20: The minimum distance from the center of the detected circle ( If the parameter is too small , Except for a real circle , It is also possible to erroneously detect multiple adjacent circles . If it is too big , Some circles may be missed .)




# - param1: stay #HOUGHŠu In the case of gradients , It's higher .  Two thresholds are passed to Canny Edge detector ( The lower one is twice as small ).




# - param2: stay #HOUGHŠu In the case of gradients , It is the accumulator threshold of the center of the circle in the detection stage . The smaller it is , The more likely it is to detect false circles ;




# - minRadius: Minimum circle radius , False circles may also be detected 




# - maxRadius: Maximum circle radius , If <=0, The maximum image size is used . If <0, The center of the radius is not found .


circles = cv2.HoughCircles(img, cv2.HOUGH_GRADIENT, 

1

, 

20

,
                           param1=

50

, param2=

40

, minRadius=

0

, maxRadius=

0

)


#  The minimum circle radius setting is not appropriate , False circles may also be detected 




# circles = cv2.HoughCircles(img, cv2.HOUGH_GRADIENT, 1, 20,




# param1=50, param2=40, minRadius=0, maxRadius=0)




# circles = cv2.HoughCircles(img, cv2.HOUGH_GRADIENT, 1, 20,




# param1=50, param2=30, minRadius=10, maxRadius=0)



circles = np.uint16(np.around(circles))



print

(

len

(circles))


print

(circles)


for

 i 

in

 circles[

0

, :]:
    

#  Draw outer circle ( Blue )


    cv2.circle(cimg, (i[

0

], i[

1

]), i[

2

], (

0

, 

255

, 

0

), 

2

)

    

#  Draw the center of the circle ( Red )


    cv2.circle(cimg, (i[

0

], i[

1

]), 

2

, (

0

, 

0

, 

255

), 

3

)

cv2.imshow(

'detected circles'

, cimg)
cv2.waitKey(

0

)
cv2.destroyAllWindows()


 Copy code 
Reference resources
copyright notice
author[Program yuan one_ Shining Xiaomei],Please bring the original link to reprint, thank you.
https://en.pythonmana.com/2022/01/202201301712483176.html