Python crawler actual combat, requests module, python realizes capturing a video barrage
2022-01-31 02:18:06 【Dai mubai】
「 This is my participation 11 The fourth of the yuegengwen challenge 4 God , Check out the activity details :2021 One last more challenge 」.
Preface
utilize Python Capture a video barrage , I don't say much nonsense .
Let's start happily ~
development tool
Python edition : 3.6.4
Related modules :
requests modular ;
pandas modular
As well as some Python Built in modules .
Environment building
install Python And add to environment variable ,pip Install the relevant modules required .
Thought analysis
This article is based on crawling film 《 Revolutionary 》 For example , Explain how to crawl the barrage and comments of a video !
Target website
https://v.qq.com/x/cover/mzc00200m72fcup.html


 Copy code 
Capture barrage
Analyze the website
Still enter the developer tool of the browser to capture packets , When the video plays 30 It will update one in seconds json Data packets , It contains the barrage data we need .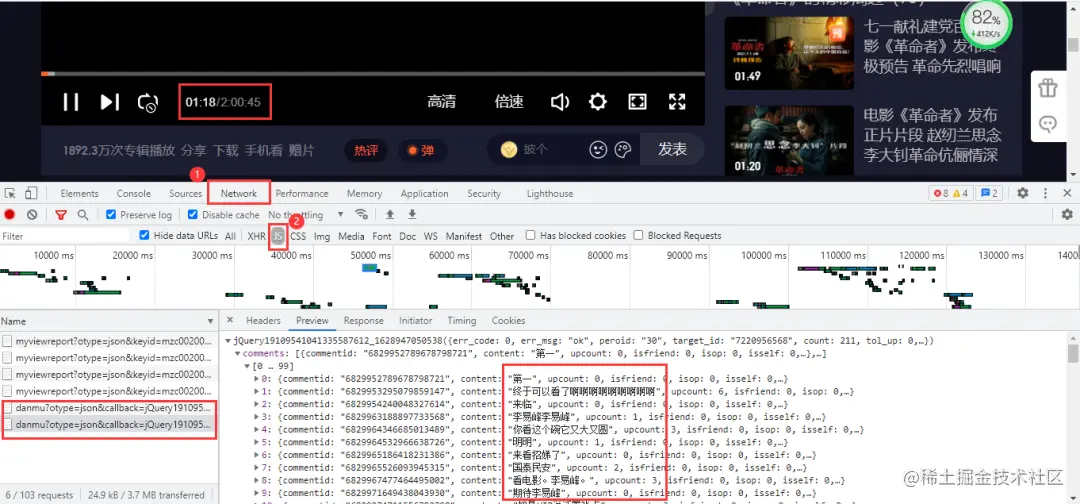 Get accurate URL:
https://mfm.video.qq.com/danmu?otype=json&callback=jQuery19109541041335587612_1628947050538&target_id=

7220956568

%26vid%3Dt0040z3o3la&session_key=

0

%2C32%2C1628947057&timestamp=

15

&_=

1628947050569

\
https://mfm.video.qq.com/danmu?otype=json&callback=jQuery19109541041335587612_1628947050538&target_id=

7220956568

%26vid%3Dt0040z3o3la&session_key=

0

%2C32%2C1628947057&timestamp=

45

&_=

1628947050572




 Copy code 
The different parameters are timestamp and _._ It's a time stamp .timestamp It's the number of pages , First article url by 15, The following is tolerance 30 Increasing , The tolerance is based on the packet update time , The maximum number of pages is the video duration 7245 second . Still delete unnecessary parameters , obtain URL:
https://mfm.video.qq.com/danmu?otype=json&target_id=

7220956568

%26vid%3Dt0040z3o3la&session_key=

0

%2C18%2C1628418094&timestamp=

15

&_=

1628418086509




 Copy code 
Code implementation
import

 pandas 

as

 pd\


import

 time\


import

 requests\
\
headers = {\
    

'User-Agent'

: 

'Googlebot'

\
}\


#  For the initial 15,7245  For video seconds , Links are incremented by 30 seconds \


df = pd.DataFrame()\


for

 i 

in

 

range

(

15

, 

7245

, 

30

):\
    url = 

"https://mfm.video.qq.com/danmu?otype=json&target_id=7220956568%26vid%3Dt0040z3o3la&session_key=0%2C18%2C1628418094&timestamp={}&_=1628418086509"

.

format

(i)\
    html = requests.get(url, headers=headers).json()\
    time.sleep(

1

)\
    

for

 i 

in

 html[

'comments'

]:\
        content = i[

'content'

]\
        

print

(content)\
        text = pd.DataFrame({

' bullet chat '

: [content]})\
        df = pd.concat([df, text])\
df.to_csv(

' Revolutionary _ bullet chat .csv'

, encoding=

'utf-8'

, index=

False

)


 Copy code 
Effect display
Grab comments
Web analytics
The data of a video comment is at the bottom of the web page , Still dynamically loaded , You need to follow the steps below to enter the developer tool to capture packages :
Click to see more comments , The data package contains the comment data we need , Get the truth URL:
https://video.coral.qq.com/varticle/

6655100451

/comment/v2?callback=_varticle6655100451commentv2&orinum=

10

&oriorder=o&pageflag=

1

&cursor=

0

&scorecursor=

0

&orirepnum=

2

&reporder=o&reppageflag=

1

&source=

132

&_=

1628948867522

\
https://video.coral.qq.com/varticle/

6655100451

/comment/v2?callback=_varticle6655100451commentv2&orinum=

10

&oriorder=o&pageflag=

1

&cursor=

6786869637356389636

&scorecursor=

0

&orirepnum=

2

&reporder=o&reppageflag=

1

&source=

132

&_=

1628948867523




 Copy code 
URL Parameters in callback as well as _ Delete it . What matters is the parameters cursor, Article 1 with a url Parameters cursor Is equal to 0 Of , Second url Only then , So look for cursor How parameters appear . After my observation ,cursor The parameter is actually the previous one url Of last Parameters :

Code implementation
import

 requests\


import

 pandas 

as

 pd\


import

 time\


import

 random\
\
headers = {\
    

'User-Agent'

: 

'Mozilla/5.0 (Windows NT 10.0; Win64; x64) AppleWebKit/537.36 (KHTML, like Gecko) Chrome/91.0.4472.124 Safari/537.36'

\
}\
df = pd.DataFrame()\
a = 

1

\


#  The number of cycles... Must be set here , Otherwise, it will crawl indefinitely \




# 281 It refers to... In the data package oritotal, There are... In the packet 10 Data , loop 280 Time to get 2800 Data , But not including the comments replied below \




#  In the packet commentnum, Is the total number of comment data including replies , And the packets contain 10 Comment data and comment data of the reply below , So just put 2800 Divide 10 Integer +1 that will do !\




while

 a < 

281

:\
    

if

 a == 

1

:\
        url = 

'https://video.coral.qq.com/varticle/6655100451/comment/v2?orinum=10&oriorder=o&pageflag=1&cursor=0&scorecursor=0&orirepnum=2&reporder=o&reppageflag=1&source=132'

\
    

else

:\
        url = f'https://video.coral.qq.com/varticle/6655100451/comment/v2?orinum=10&oriorder=o&pageflag=1&cursor=

{cursor}

&scorecursor=0&orirepnum=2&reporder=o&reppageflag=1&source=132'\
    res = requests.get(url, headers=headers).json()\
    cursor = res[

'data'

][

'last'

]\
    

for

 i 

in

 res[

'data'

][

'oriCommList'

]:\
        ids = i[

'id'

]\
        times = i[

'time'

]\
        up = i[

'up'

]\
        content = i[

'content'

].replace(

'\n'

, 

''

)\
        text = pd.DataFrame({

'ids'

: [ids], 

'times'

: [times], 

'up'

: [up], 

'content'

: [content]})\
        df = pd.concat([df, text])\
    a += 

1

\
    time.sleep(random.uniform(

2

, 

3

))\
    df.to_csv(

' Revolutionary _ Comment on .csv'

, encoding=

'utf-8'

, index=

False

)


 Copy code 
Effect display

copyright notice
author[Dai mubai],Please bring the original link to reprint, thank you.
https://en.pythonmana.com/2022/01/202201310218050324.html