Mapping 3D model surface distances using Python VTK
2022-01-31 05:55:25 【Pie star's keyboard】
This is my participation 11 The fourth of the yuegengwen challenge 7 God , Check out the activity details :2021 One last more challenge
This article explains how to use it VTK Read the picture and calculate two three-dimensional models (stl) Surface distance of , And map its distance value to the model .
Data preparation : Need to prepare two stl file 、Python Need to install vtk library
Step one : data fetch First, through vtk.vtkSTLReader() Definition stl File reading interface , Re pass reader1.GetOutput() You can get stl stay vtk Workflow data .
Step two : Remove duplicate points adopt vtk.vtkCleanPolyData() You can remove duplicate points in the model
Step three : Calculated distance Use vtk.vtkDistancePolyDataFilter() , Use the data after filtering out duplicate points in the previous step as input . Such as distanceFilter.SetInputConnection(1, clean1.GetOutputPort()), The first parameter is the label of the input data , from 0 Start counting ; The second parameter is the input data . We will vtkDistancePolyDataFilter Of output to mapper The distance mapping is completed .
Step four : Color configuration lut = vtk.vtkLookupTable() Equivalent to a palette function , By changing its parameters , Adjust the color range of the final mapping . scalarBar = vtk.vtkScalarBarActor() It's the color bar , Map the distance value to color according to the results of the previous palette .
import

 vtk

input1 = vtk.vtkPolyData()
reader1 = vtk.vtkSTLReader()
reader1.SetFileName(

'model1.stl'

)
reader1.Update()
input1 = reader1.GetOutput()  

#  Read the model A



input2 = vtk.vtkPolyData()
reader2 = vtk.vtkSTLReader()
reader2.SetFileName(

'model2.stl'

)
reader2.Update()
input2 = reader2.GetOutput()  

#  Read the model B






#  Data merging , You can merge and display two models 


clean1 = vtk.vtkCleanPolyData()
clean1.SetInputData(input1)

clean2 = vtk.vtkCleanPolyData()
clean2.SetInputData(input2)

distanceFilter = vtk.vtkDistancePolyDataFilter()

distanceFilter.SetInputConnection(

1

, clean1.GetOutputPort())
distanceFilter.SetInputConnection(

0

, clean2.GetOutputPort())
distanceFilter.SignedDistanceOff()
distanceFilter.Update()  

#  Calculated distance 


distanceFilter.GetOutputPort()
mapper = vtk.vtkPolyDataMapper()  

#  To configure mapper


mapper.SetInputConnection(distanceFilter.GetOutputPort())
mapper.SetScalarRange(  

#  Set the color mapping range 


    distanceFilter.GetOutput().GetPointData().GetScalars().GetRange()[

0

],
    distanceFilter.GetOutput().GetPointData().GetScalars().GetRange()[

1

])
actor = vtk.vtkActor()
actor.SetMapper(mapper)
actor1 = vtk.vtkActor()
actor1.SetMapper(mapper)
lut = vtk.vtkLookupTable()
lut.SetHueRange(

0.2

, 

0.7

)  

#  Mapped color transformation parameters ( Adjust your own color )




# lut.SetAlphaRange(1.0, 1.0)




# lut.SetValueRange(1.0, 1.0)




# lut.SetSaturationRange(1.0, 1.0)




# lut.SetNumberOfTableValues(256)


mapper.SetLookupTable(lut)
mapper2 = vtk.vtkPolyDataMapper()
mapper2.SetInputData((distanceFilter.GetSecondDistanceOutput()))
mapper2.SetScalarRange(  

#  Set the color mapping range 


    distanceFilter.GetSecondDistanceOutput().GetPointData().GetScalars().GetRange()[

0

],
    distanceFilter.GetSecondDistanceOutput().GetPointData().GetScalars().GetRange()[

1

])


actor2 = vtk.vtkActor()
actor2.SetMapper(mapper2)

scalarBar = vtk.vtkScalarBarActor()  

#  Set up color_bar


scalarBar.SetLookupTable(mapper.GetLookupTable())
scalarBar.SetTitle(

"SD(mm)"

)
scalarBar.SetNumberOfLabels(

5

)  

#  Set the number of scale labels to display . Set the position of the ribbon by yourself 


scalarBar.SetMaximumNumberOfColors(

10

)


# scalarBar.GetPositionCoordinate().SetCoordinateSystemToNormalizedViewport()




# scalarBar.GetPositionCoordinate().SetValue(0.01, 0.49) #  The smaller the parameter, the more left , The larger the second parameter is, the higher it goes 




# scalarBar.SetWidth(0.16)




# scalarBar.SetHeight(0.5)




# scalarBar.SetTextPositionToPrecedeScalarBar() #  Whether the title and scale mark should precede the scalar column ( The text will appear to the left of the bar )




# #  Set the margin between the title and the bar 




# scalarBar.SetVerticalTitleSeparation(10)




# #  Set the title color 


scalarBar.DrawTickLabelsOn()
scalarBar.GetTitleTextProperty().SetColor(

0

, 

0

, 

0

)
scalarBar.GetLabelTextProperty().SetColor(

0

, 

0

, 

0

)
arender = vtk.vtkRenderer()
arender.SetViewport(

0

, 

0.0

, 

1

, 

1.0

)
renWin = vtk.vtkRenderWindow()
renWin.AddRenderer(arender)
iren = vtk.vtkRenderWindowInteractor()
iren.SetRenderWindow(renWin)
style = vtk.vtkInteractorStyleTrackballActor()
iren.SetInteractorStyle(style)
aCamera = vtk.vtkCamera()
aCamera.SetViewUp(

0

, 

0

, -

1

)
aCamera.SetPosition(

0

, -

1

, 

0

)
aCamera.ComputeViewPlaneNormal()
aCamera.Azimuth(

30.0

)
aCamera.Elevation(

30.0

)
aCamera.Dolly(

1.5

)

arender.AddActor(actor)


# arender.AddActor(actor1)


arender.SetActiveCamera(aCamera)
arender.ResetCamera()
arender.SetBackground(

1

, 

1

, 

1

)
arender.ResetCameraClippingRange()
arender.AddActor2D(scalarBar)

renWin.Render()
iren.Initialize()
iren.Start()


 Copy code 
Result example :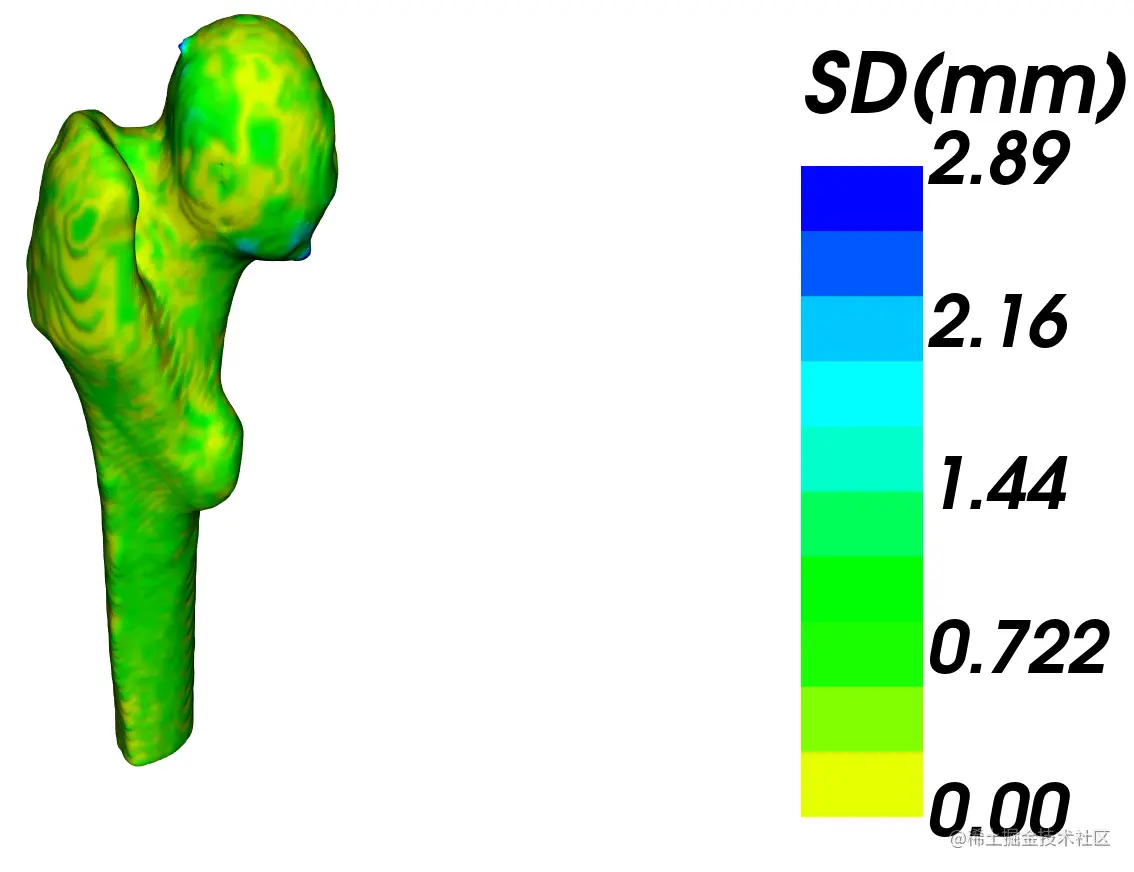 copyright notice
author[Pie star's keyboard],Please bring the original link to reprint, thank you.
https://en.pythonmana.com/2022/01/202201310555231274.html