Tiobe November programming language ranking: Python surpasses C language to become the first! PHP is about to fall out of the top ten?
2022-01-31 12:28:45 【Programming small train】
TIOBE The programming community index is an indicator of the popularity of programming languages . The index is updated monthly . The rating is based on global skilled engineers 、 Number of courses and third party suppliers . Google 、 Bing Ying 、 Yahoo 、 Wikipedia 、 Amazon 、YouTube And popular search engines such as Baidu are used to calculate scores . It should be noted that ,TIOBE The index is independent of the best programming language or the language used by most lines of code .
This index can be used to check if your programming skills are still up to date , Or make strategic decisions about which programming language to use when building a new software system .
​​
​​
TIOBE Programming community index
​​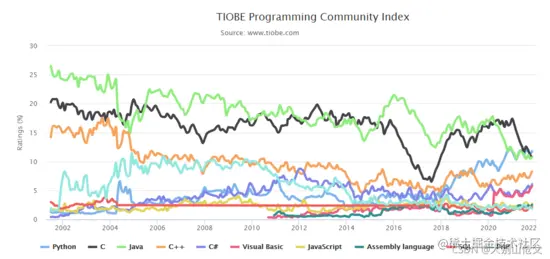 ​​
Ranking of other programming languages
​​
​​
The next 50 Programming languages
The following list of languages indicates #51 To #100. Because the difference is relatively small , So only the programming languages are listed ( In alphabetical order ).
ABC, Algol, APL, Awk, B4X, Ballerina, Bash, BCPL, Bourne shell, CL (OS/400), Clipper, Dylan, Eiffel, Elixir, Emacs Lisp, F#, Forth, Haxe, Icon, Inform, Io, J#, Korn shell, Lingo, LiveCode, M4, Maple, ML, MQL4, NXT-G, Oberon, OCaml, OpenCL, Pure Data, Q, Racket, Raku, RPG, S, sed, Simulink, Solidity, SPARK, SPSS, Stata, Tcl, Vala/Genie, Verilog, Xojo, Zig
Long term ranking
Here is a list of the top ten programming languages many years ago
​​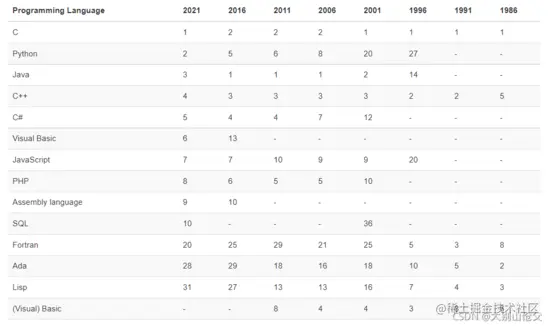 ​​
Here are two noteworthy points :
1. In the table above "Visual Basic" and "(Visual)Basic" There are differences between . until 2010 year ,"(Visual)Basic" It refers to all possible Basic Language , Include visualbasic. After a discussion , It was decided that "(Visual)Basic" Split into all dialects , Such as visualbasic.NET、 classic visualbasic、PureBasic and Small Basic etc. . because visualbasic.NET Has become a visualbasic The main implementation of , It is now called "visualbasic".
2. programing language SQL It's been a long time since TIOBE In the index .2018 year , It was pointed out that SQL Turing is complete . From then on ,SQL Namely TIOBE Part of index . therefore , Although the language is very old , But there is only a short history in the index .
Programming language Hall of fame
​​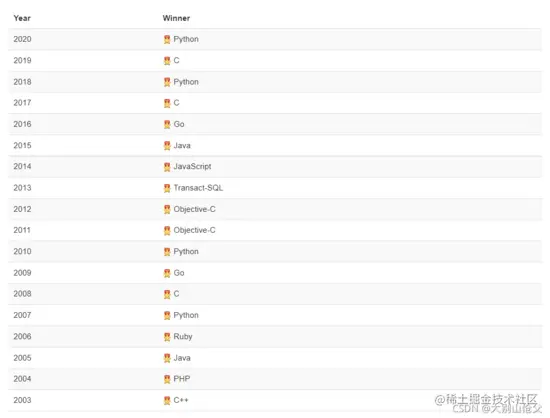 ​​
You can see in this month's list :PHP Showing a downward trend , There is a risk of falling out of the top ten .
since TIOBE Since the index started ,20 Many years ago ,PHP Always at the top 10 Permanent player . lately , We see PHP Try to stay ahead 10 name .PHP Used to be Web Master of programming , But now it faces a lot of competition in this field . That's not to say PHP It's dead . Many small and medium-sized enterprises still rely on PHP. So I expect PHP Will fall further , But the speed is very slow .
If you also like programming , Want to learn C/C++ Words ! If you want to be a great programmer with real talent , From now on !
WeChat official account :C Language programming learning base
Organize and share ( Years of learning source code 、 Project practice video 、 Project notes , Introduction to Basics )
copyright notice
author[Programming small train],Please bring the original link to reprint, thank you.
https://en.pythonmana.com/2022/01/202201311228427440.html