Highlight actor using Python VTK
2022-01-31 21:37:43 【Pie Da Da Xing】
This is my participation 11 The fourth of the yuegengwen challenge 16 God , Check out the activity details :2021 One last more challenge
VTK,(visualizationtoolkit) It is a free software system with open resources , Mainly used in 3D computer graphics 、 Image processing and visualization .Vtk It is designed and implemented on the basis of object-oriented principle , Its kernel uses C++ Built , Contains about 250,000 Line code ,2000 Multiple classes , There are also several conversion interfaces , So it's free to pass Java,Tcl/Tk and Python Use of various languages vtk.
This article explains how to use it Python-VTK In the same window , Highlight the selected actor. The code in this example , When the ball in the window actor When selected , It turns red , And the actor Three times the patch edge information .
Main function introduction :
NewPickedActor.GetProperty(): Through this function , You can set actor The nature of , Such as color 、 Surface style, etc .
vtk.vtkSphereSource(): Function to create a sphere , Through a for Loop created 10 A sphere .
vtk.vtkMinimalStandardRandomSequence(): VTK The random number generator of , For the ten spheres in the code , Randomly generate the size and position of the sphere .
MouseInteractorHighLightActor: Definition actor Operation method , This is a control method of mouse operation control .
leftButtonPressEvent(self, obj, event): This is an event trigger function , When the left mouse button clicks the corresponding actor when , Will trigger the function , Point to point actor Highlight .
The main codes are as follows :
#!/usr/bin/env python





# noinspection PyUnresolvedReferences




import

 vtk

colors = vtk.vtkNamedColors()
NUMBER_OF_SPHERES = 

10






class

 

MouseInteractorHighLightActor

(

vtk.vtkInteractorStyleTrackballCamera

):

    

def

 

__init__

(self, parent=

None

):
        self.AddObserver(

"LeftButtonPressEvent"

, self.leftButtonPressEvent)

        self.LastPickedActor = 

None


        self.LastPickedProperty = vtk.vtkProperty()

    

def

 

leftButtonPressEvent

(

self, obj, event

):
        clickPos = self.GetInteractor().GetEventPosition()

        picker = vtk.vtkPropPicker()
        picker.Pick(clickPos[

0

], clickPos[

1

], 

0

, self.GetDefaultRenderer())

        

#  Create a new actor


        self.NewPickedActor = picker.GetActor()

        

# If something was selected


        

if

 self.NewPickedActor:
            

# If we picked something before, reset its property


            

if

 self.LastPickedActor:
                self.LastPickedActor.GetProperty().DeepCopy(self.LastPickedProperty)

            

# Save the property of the picked actor so that we can


            

# restore it next time


            self.LastPickedProperty.DeepCopy(self.NewPickedActor.GetProperty())
            

#  Highlight the selected sphere , And show the edges 


            self.NewPickedActor.GetProperty().SetColor(colors.GetColor3d(

'Red'

))
            self.NewPickedActor.GetProperty().SetDiffuse(

1.0

)
            self.NewPickedActor.GetProperty().SetSpecular(

0.0

)
            self.NewPickedActor.GetProperty().EdgeVisibilityOn()

            

#  Save the last selected actor


            self.LastPickedActor = self.NewPickedActor

        self.OnLeftButtonDown()
        

return






def

 

main

():
    

#  establish render and window


    renderer = vtk.vtkRenderer()
    renderer.SetBackground(colors.GetColor3d(

'SteelBlue'

))

    renwin = vtk.vtkRenderWindow()
    renwin.AddRenderer(renderer)
    renwin.SetSize(

640

, 

480

)
    renwin.SetWindowName(

'HighlightPickedActor'

)

    

#  establish interactor( interactions )


    interactor = vtk.vtkRenderWindowInteractor()
    interactor.SetRenderWindow(renwin)

    

#  Interactive operation method 


    style = MouseInteractorHighLightActor()
    style.SetDefaultRenderer(renderer)
    interactor.SetInteractorStyle(style)

    randomSequence = vtk.vtkMinimalStandardRandomSequence()
    

# randomSequence.SetSeed(1043618065)


    

# randomSequence.SetSeed(5170)


    randomSequence.SetSeed(

8775070

)
    

#  Add sphere 


    

for

 i 

in

 

range

(NUMBER_OF_SPHERES):
        source = vtk.vtkSphereSource()

        

# random position and radius


        x = randomSequence.GetRangeValue(-

5.0

, 

5.0

)
        randomSequence.Next()
        y = randomSequence.GetRangeValue(-

5.0

, 

5.0

)
        randomSequence.Next()
        z = randomSequence.GetRangeValue(-

5.0

, 

5.0

)
        randomSequence.Next()
        radius = randomSequence.GetRangeValue(

0.5

, 

1.0

)
        randomSequence.Next()

        source.SetRadius(radius)
        source.SetCenter(x, y, z)
        source.SetPhiResolution(

11

)
        source.SetThetaResolution(

21

)

        mapper = vtk.vtkPolyDataMapper()
        mapper.SetInputConnection(source.GetOutputPort())
        actor = vtk.vtkActor()
        actor.SetMapper(mapper)

        r = randomSequence.GetRangeValue(

0.4

, 

1.0

)
        randomSequence.Next()
        g = randomSequence.GetRangeValue(

0.4

, 

1.0

)
        randomSequence.Next()
        b = randomSequence.GetRangeValue(

0.4

, 

1.0

)
        randomSequence.Next()

        actor.GetProperty().SetDiffuseColor(r, g, b)
        actor.GetProperty().SetDiffuse(

.8

)
        actor.GetProperty().SetSpecular(

.5

)
        actor.GetProperty().SetSpecularColor(colors.GetColor3d(

'White'

))
        actor.GetProperty().SetSpecularPower(

30.0

)

        renderer.AddActor(actor)

    

#  function 


    interactor.Initialize()
    renwin.Render()
    interactor.Start()




if

 __name__ == 

'__main__'

:
    main()


 Copy code 
The results are as follows : No sphere selected :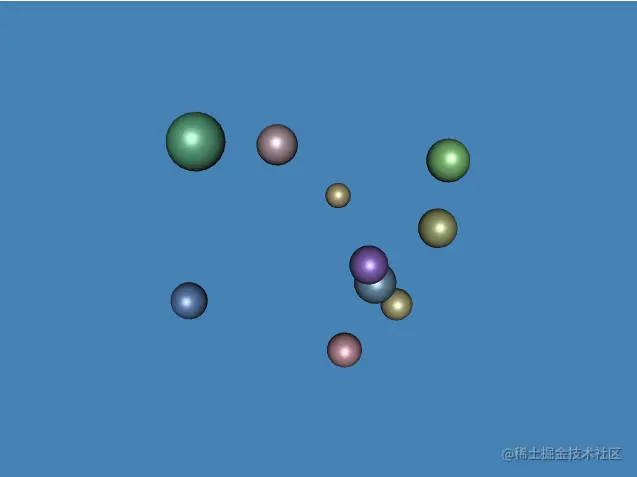 After the sphere has been selected :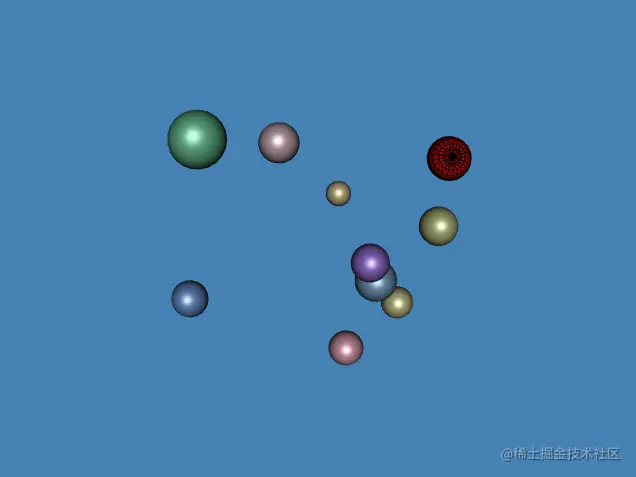 copyright notice
author[Pie Da Da Xing],Please bring the original link to reprint, thank you.
https://en.pythonmana.com/2022/01/202201312137389504.html