Python combat case, pyGame module, python implementation routine confession artifact vs no routine confession artifact
2022-02-01 23:03:46 【Dai mubai】
Time is not negative , Create constantly , This article is participating in 2021 Year end summary essay contest
Preface
utilize Python Realize the routine to express the artifact VS No routine expression artifact . I don't say much nonsense .
Let's start happily ~
development tool
Python edition : 3.6.4
Related modules :
pygame modular ;
random modular
sys modular ;
As well as some Python Built in modules .
Environment building
install Python And add to environment variable ,pip Install the relevant modules required .
utilize Python Of pygame library , Generate a confession artifact
No routine version
Code implementation
import

 pygame


import

 random


import

 sys



#  According to the background image size , Set game screen size 


WIDTH, HEIGHT = 

1024

, 

576




#  Not full screen 


screen = pygame.display.set_mode((WIDTH, HEIGHT), 

0

, 

32

)


#  Full screen 




# screen = pygame.display.set_mode((WIDTH, HEIGHT), pygame.FULLSCREEN, 32)


pygame.display.set_caption(

' Cute girl , Your express is here .'

)




#  Add text message 




def

 

title

(text, screen, scale, color=(

0

, 

0

, 

0

)):
    font = pygame.font.SysFont(

'SimHei'

, 

27

)
    textRender = font.render(text, 

True

, color)
    

#  Coordinates of initialization text 


    screen.blit(textRender, (WIDTH / scale[

0

], HEIGHT / scale[

1

]))




#  Button 




def

 

button

(

text, x, y, w, h, color, screen

):
        pygame.draw.rect(screen, color, (x, y, w, h))
        font = pygame.font.SysFont(

'SimHei'

, 

20

)
        textRender = font.render(text, 

True

, (

255

, 

255

, 

255

))
        textRect = textRender.get_rect()
        textRect.center = ((x+w/

2

), (y+h/

2

))
        screen.blit(textRender, textRect)




#  Generate random position coordinates 




def

 

get_random_pos

():
        x, y = random.randint(

10

, 

600

), random.randint(

20

, 

500

)
        

return

 x, y




#  The page displayed after clicking the allow button 




def

 

show_like_interface

(

screen

):
    screen.fill((

255

, 

255

, 

255

))
    background1 = pygame.image.load(

'214_1.jpg'

).convert()
    screen.blit(background1, (

0

, 

0

))
    pygame.display.update()
    

while

 

True

:
        

for

 event 

in

 pygame.event.get():
            

if

 event.

type

 == pygame.QUIT:
                sys.exit()




def

 

main

():
    pygame.init()
    clock = pygame.time.Clock()
    

#  Add background music 


    pygame.mixer.music.load(

'214_1.mp3'

)
    pygame.mixer.music.play(-

1

, 

20

)
    pygame.mixer.music.set_volume(

0.5

)
    

#  Set disagree button properties 


    unlike_pos_x = 

130


    unlike_pos_y = 

375


    unlike_pos_width = 

450


    unlike_pos_height = 

55


    unlike_color = (

115

, 

76

, 

243

)
    

#  Set Agree button properties 


    like_pos_x = 

130


    like_pos_y = 

280


    like_pos_width = 

450


    like_pos_height = 

55


    like_color = (

115

, 

76

, 

243

)

    running = 

True


    

while

 running:
        

#  Fill in the window 


        screen.fill((

255

, 

255

, 

255

))
        

#  Add background 


        background = pygame.image.load(

'214_2.jpg'

).convert()
        screen.blit(background, (

0

, 

0

))

        

#  Get mouse coordinates 


        pos = pygame.mouse.get_pos()
        

#  Determine the mouse position , When you disagree , The buttons are constantly changing 


        

if

 pos[

0

] < unlike_pos_x + unlike_pos_width + 

5

 

and

 pos[

0

] > unlike_pos_x - 

5

 

and

 pos[

1

] < unlike_pos_y + unlike_pos_height + 

5

 

and

 pos[

1

] > unlike_pos_y - 

5

:
            

while

 

True

:
                unlike_pos_x, unlike_pos_y = get_random_pos()
                

if

 pos[

0

] < unlike_pos_x + unlike_pos_width + 

5

 

and

 pos[

0

] > unlike_pos_x - 

5

 

and

 pos[

1

] < unlike_pos_y + unlike_pos_height + 

5

 

and

 pos[

1

] > unlike_pos_y - 

5

:
                    

continue


                

break



        

#  Set the title and button text information 


        title(

'1. If one day I confess to you , What will happen to you ?'

, screen, scale=[

8

, 

3

])
        button(

'A. You're finally enlightened , If you dare to confess, I dare to promise !'

, like_pos_x, like_pos_y, like_pos_width, like_pos_height, like_color, screen)
        button(

'B. I take you as my best friend , You want to sleep with me ! Refuse decisively !'

, unlike_pos_x, unlike_pos_y, unlike_pos_width, unlike_pos_height, unlike_color, screen)
        

#  Set off option properties 


        

for

 event 

in

 pygame.event.get():
            

if

 event.

type

 == pygame.QUIT:
                sys.exit()
        

#  When the mouse clicks the Agree button , Jump to the end page 


        

if

 pos[

0

] < like_pos_x + like_pos_width + 

5

 

and

 pos[

0

] > like_pos_x - 

5

 

and

 pos[

1

] < like_pos_y + like_pos_height + 

5

 

and

 pos[

1

] > like_pos_y - 

5

:
            

if

 event.

type

 == pygame.MOUSEBUTTONDOWN:
                show_like_interface(screen)

        pygame.display.flip()
        pygame.display.update()
        clock.tick(

60

)


main()


 Copy code 
Routine version
import

 pygame


import

 random


import

 sys



#  According to the background image size , Set game screen size 


WIDTH, HEIGHT = 

1024

, 

576


screen = pygame.display.set_mode((WIDTH, HEIGHT), 

0

, 

32

)
pygame.display.set_caption(

' Cute girl , Your express is here .'

)




#  Add text message 




def

 

title

(text, screen, scale, color=(

0

, 

0

, 

0

)):
    font = pygame.font.SysFont(

'SimHei'

, 

27

)
    textRender = font.render(text, 

True

, color)
    

#  Initialize the coordinates of the text 


    screen.blit(textRender, (WIDTH / scale[

0

], HEIGHT / scale[

1

]))




#  Button 




def

 

button

(

text, x, y, w, h, color, screen, color_text

):
        pygame.draw.rect(screen, color, (x, y, w, h))
        font = pygame.font.SysFont(

'SimHei'

, 

20

)
        textRender = font.render(text, 

True

, color_text)
        textRect = textRender.get_rect()
        textRect.center = ((x+w/

2

), (y+h/

2

))
        screen.blit(textRender, textRect)




#  Generate random position coordinates 




def

 

get_random_pos

():
        x, y = random.randint(

20

, 

620

), random.randint(

20

, 

460

)
        

return

 x, y




#  The page displayed after clicking yes 




def

 

show_like_interface

(

screen

):
    screen.fill((

255

, 

255

, 

255

))
    background1 = pygame.image.load(

'214_1.jpg'

).convert()
    screen.blit(background1, (

0

, 

0

))
    pygame.display.update()
    

while

 

True

:
        

for

 event 

in

 pygame.event.get():
            

if

 event.

type

 == pygame.QUIT:
                sys.exit()




#  The page displayed after clicking the disallow button 




def

 

show_unlike_interface

(

screen

):
    screen.fill((

255

, 

255

, 

255

))
    background_1 = pygame.image.load(

'214_3.jpg'

).convert()
    screen.blit(background_1, (

0

, 

0

))
    pygame.display.update()
    

while

 

True

:
        

for

 event 

in

 pygame.event.get():
            

if

 event.

type

 == pygame.QUIT:
                sys.exit()




def

 

main

():
    num = 

0


    pygame.init()
    clock = pygame.time.Clock()
    

#  Add background music 


    pygame.mixer.music.load(

'214_2.mp3'

)
    pygame.mixer.music.play(-

1

, 

40

)
    pygame.mixer.music.set_volume(

0.5

)
    

#  Set disagree button properties 


    unlike_pos_x = 

130


    unlike_pos_y = 

375


    unlike_pos_width = 

450


    unlike_pos_height = 

55


    unlike_color = (

115

, 

76

, 

243

)
    

#  Set Agree button properties 


    like_pos_x = 

130


    like_pos_y = 

280


    like_pos_width = 

450


    like_pos_height = 

55


    like_color = (

115

, 

76

, 

243

)

    running = 

True


    

while

 running:
        

#  Fill in the window 


        screen.fill((

255

, 

255

, 

255

))
        

#  Add background 


        background = pygame.image.load(

'214_2.jpg'

).convert()
        screen.blit(background, (

0

, 

0

))

        

#  Get mouse coordinates 


        pos = pygame.mouse.get_pos()
        

if

 pos[

0

] < unlike_pos_x + unlike_pos_width + 

5

 

and

 pos[

0

] > unlike_pos_x - 

5

 

and

 pos[

1

] < unlike_pos_y + unlike_pos_height + 

5

 

and

 pos[

1

] > unlike_pos_y - 

5

:
            

while

 

True

:
                

if

 num > 

5

:
                    

break


                num += 

1


                unlike_pos_x, unlike_pos_y = get_random_pos()
                

if

 pos[

0

] < unlike_pos_x + unlike_pos_width + 

5

 

and

 pos[

0

] > unlike_pos_x - 

5

 

and

 pos[

1

] < unlike_pos_y + unlike_pos_height + 

5

 

and

 pos[

1

] > unlike_pos_y - 

5

:
                    

continue


                

break



        

#  Set the title and button text information 


        title(

'1. If one day I confess to you , What will happen to you ?'

, screen, scale=[

8

, 

3

])
        button(

'A. You're finally enlightened , If you dare to confess, I dare to promise !'

, like_pos_x, like_pos_y, like_pos_width, like_pos_height, like_color, screen, (

255

, 

255

, 

255

))
        

#  Set small routine text 


        

if

 num < 

6

:
            button(

'B. I take you as my best friend , You want to sleep with me ! Refuse decisively !'

, unlike_pos_x, unlike_pos_y, unlike_pos_width, unlike_pos_height, unlike_color, screen, (

255

, 

255

, 

255

))
        

if

 num > 

5

:
            button(

'B.  I take you as my best friend , You want to sleep with me ! Resolutely promise !'

, unlike_pos_x, unlike_pos_y, unlike_pos_width, unlike_pos_height, unlike_color, screen, (

255

, 

255

, 

255

))
        

#  Set routine text 


        

if

 num == 

1

:
            button(

' Operation hint : Please click the answer directly , Don't shake your hands !'

, unlike_pos_x, unlike_pos_y - 

50

, unlike_pos_width, unlike_pos_height, (

255

, 

255

, 

255

), screen, (

192

, 

0

, 

0

))
        

if

 num == 

2

:
            button(

' Why are you shaking again ? Is there something wrong with the goddess ?'

, unlike_pos_x, unlike_pos_y - 

50

, unlike_pos_width, unlike_pos_height, (

255

, 

255

, 

255

), screen, (

192

, 

0

, 

0

))
        

if

 num == 

3

:
            button(

' ah ! It seems that he is still very ill !'

, unlike_pos_x, unlike_pos_y - 

50

, unlike_pos_width, unlike_pos_height, (

255

, 

255

, 

255

), screen, (

192

, 

0

, 

0

))
        

if

 num == 

4

:
            button(

' Sick and no one to take care of , Love dearly ……'

, unlike_pos_x, unlike_pos_y - 

50

, unlike_pos_width, unlike_pos_height, (

255

, 

255

, 

255

), screen, (

192

, 

0

, 

0

))
        

if

 num == 

5

:
            button(

' That was close ! It almost arrived !'

, unlike_pos_x, unlike_pos_y - 

50

, unlike_pos_width, unlike_pos_height, (

255

, 

255

, 

255

), screen, (

192

, 

0

, 

0

))
        

if

 num == 

6

:
            button(

' Ah , Forget it , No hiding , You can choose '

, unlike_pos_x, unlike_pos_y - 

50

, unlike_pos_width, unlike_pos_height, (

255

, 

255

, 

255

), screen, (

192

, 

0

, 

0

))

        

#  Click the routine button 


        

if

 num > 

5

:
            

if

 pos[

0

] < unlike_pos_x + unlike_pos_width + 

5

 

and

 pos[

0

] > unlike_pos_x - 

5

 

and

 pos[

1

] < unlike_pos_y + unlike_pos_height + 

5

 

and

 pos[

1

] > unlike_pos_y - 

5

:
                

if

 event.

type

 == pygame.MOUSEBUTTONDOWN:
                    show_unlike_interface(screen)

        

for

 event 

in

 pygame.event.get():
            

if

 event.

type

 == pygame.QUIT:
                sys.exit()
        

#  Click the Agree button 


        

if

 pos[

0

] < like_pos_x + like_pos_width + 

5

 

and

 pos[

0

] > like_pos_x - 

5

 

and

 pos[

1

] < like_pos_y + like_pos_height + 

5

 

and

 pos[

1

] > like_pos_y - 

5

:
            

if

 event.

type

 == pygame.MOUSEBUTTONDOWN:
                show_like_interface(screen)

        pygame.display.flip()
        pygame.display.update()
        clock.tick(

60

)


main()


 Copy code 
packaged applications
Use pyinstaller The library will code 、 Package pictures and music materials into exe file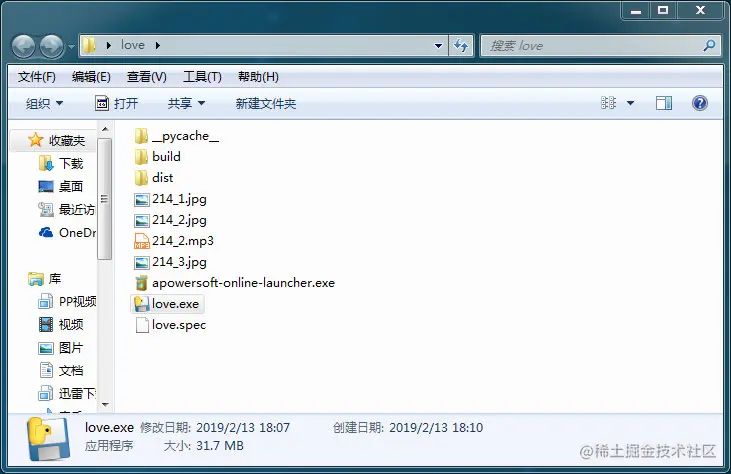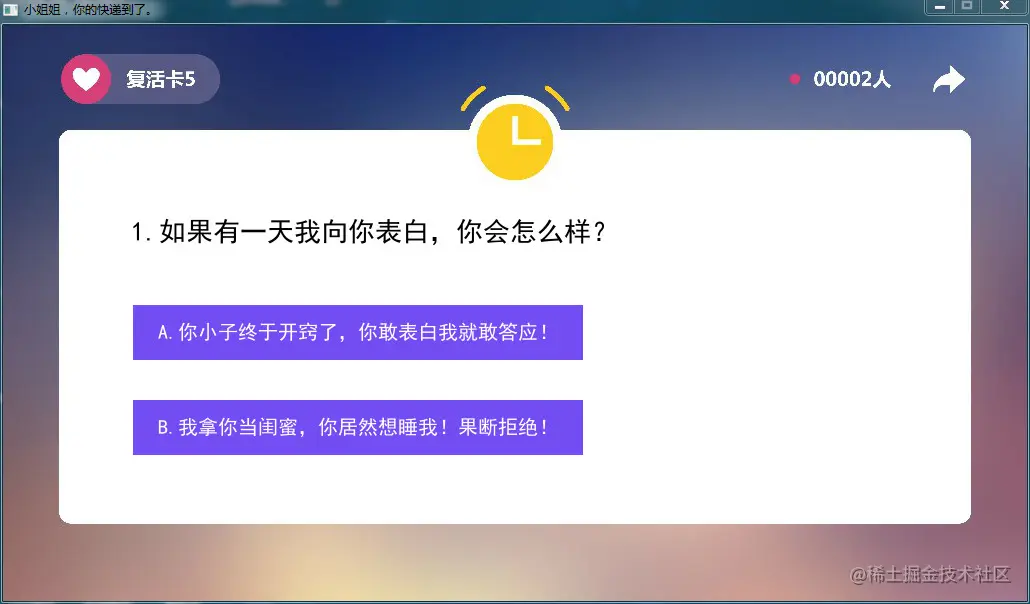 copyright notice
author[Dai mubai],Please bring the original link to reprint, thank you.
https://en.pythonmana.com/2022/02/202202012303448518.html