Python can actually realize the freedom of punch in?
2022-02-02 05:25:23 【Pike pik】
Requirements describe
We need to log in to the attendance system ( Web side , Non mobile terminal ) Check in , If you don't want to get up early every day and punch in , You can write a program to achieve this function .
Business arrangement
Find the rules by getting up early and checking in for a long time , I just click every day , Sign in , All regular operations , Why not write a program to add Windows Realize automatic check-in , In this way, I don't have to spend time on the small matter of clocking in every day . Do as you say , I found that my daily clock in behavior can be summarized as " Login system --》 enter one user name 、 password --》 Click click --》 Exit the system ".
One day online browsing community , All of a sudden selenium Description of , Then check the relevant materials and find ,

selenium This thing is quite easy to use . In a word, it is selenium Will help us automatically enter the user name and password and click on something , It just coincides with my needs .
As for the selenium How to install this thing , I won't make wheels again . I installed webdriver It's Firefox , Because the attendance system is wonderful , Only Firefox login is allowed . As for the idea of procedure , I designed it like this , Put the user name and password in json In file , then Python Read out ,selenium Help me log in , Sign in , Exit the system, etc , After signing in, you will send me an email . therefore , You can also learn from this article Python How to read json file ,Python How to use e-mail and other knowledge , You can kill many birds with one stone .
Program realization
Packages that need to be imported ,from selenium import webdriver From selenium Import webdriver

Random dwell time , Indicates random delay 6 Seconds to 10 Time between seconds

Open the login attendance system ,webdriver.Firefox() Means to open a Firefox window

Clear the user name box and password box , At the same time, from the set json Get username and password , Sign in ,clear The method is to clear the existing input data in the current window

And then you need to go through find_element_by_css_selector、find_element_by_xpath、find_element_by_id And other methods to click the corresponding button , In general, through css perhaps id perhaps name Generally, you can find the value of the button , If it doesn't work , You can find the of the button through the extension program on Firefox xpath, If other properties are not easy to determine , Just use find_element_by_xpath, This is basically omnipotent .


Set the account password information of the person who needs to sign in , At first, I specified it directly in the string array , Later, in order that the software can be widely used , Join in json The configuration file

from json Get user information from the configuration file of 、 password , Here you can see Python How to read json Of documents
userinfo.json The user name and password information are shown in the figure below , Save it in the current directory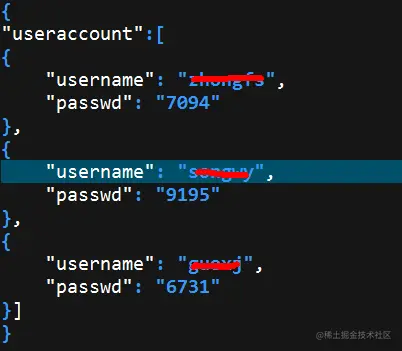 Send email notification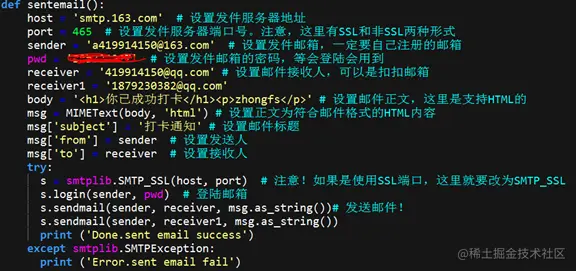 main Method to perform scheduling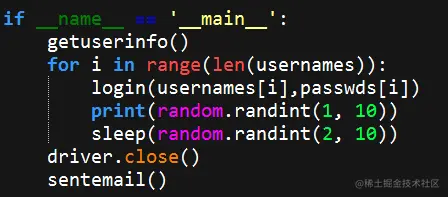 It can be executed manually ,python qiandao-4-0.py

You can also join Windows Among the scheduled tasks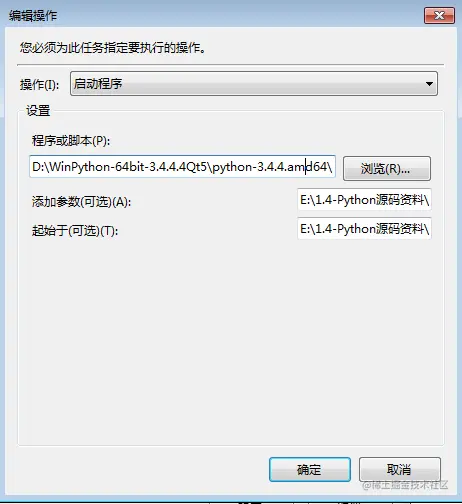 Program or script fill in , Under designation Python Installation path for
D:\WinPython-64bit-3.4.4.4Qt5\python-3.4.4.amd64\python.exe
Add parameter , Indicates the path where the check-in script is located
E:\1.4-Python Source data \ Auto check in script -python-(4.0 edition )-2\qiandao-4-0.py
From , Indicates the directory in which the scheduled task is operated when it is started , Because of my json Configuration files are also in E:\1.4-Python Source data \ Auto check in script -python-(4.0 edition )-2, So I also fill in
E:\1.4-Python Source data \ Auto check in script -python-(4.0 edition )-2

summary
This article realizes how to use python+ selenium Realize automatic check-in on the web page , And add to Windows How to operate in the scheduled task of . Except punch in , You can also use this program to do something else , Draw inferences from one instance , From now on, you don't have to order any more .
copyright notice
author[Pike pik],Please bring the original link to reprint, thank you.
https://en.pythonmana.com/2022/02/202202020525172074.html