Information recommendation platform based on Python search engine and recommendation algorithm
2022-02-02 06:41:58 【z812483032】
be based on Python Search engine and recommendation algorithm information recommendation platform
One 、 Preface
brief introduction
(1) adopt Python Regularly collect news data and obtain and analyze data sources , Use jieba Conduct text analysis , Calculate the similarity of the analyzed keywords , Get the relevance of the news , Recommend content through relevance . (2) Similarly, the user's IP Address area analysis , Then match the news content related to the user's region . (3) Then analyze and calculate the heat value through the amount of news reading and comments combined with the time point
Functional structure

frame 、 Third party Library
| | Technology involved / frame |
| --- | --- |
| front end | Vue.js、iView、ElementUI、ECharts |
| Back end | Django、Selenium、jieba、BeatifulSoup |
| database | MySQL |
Interface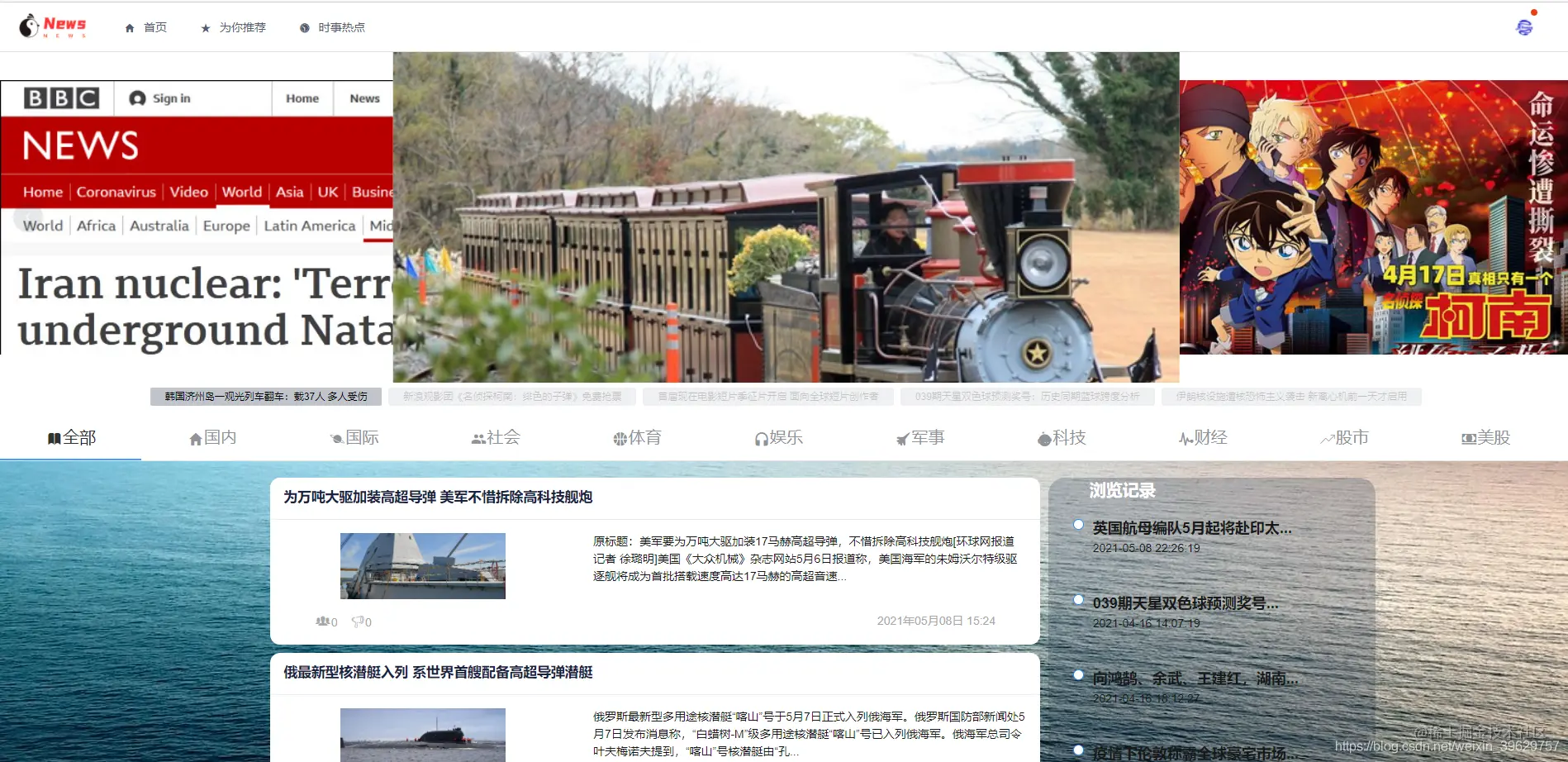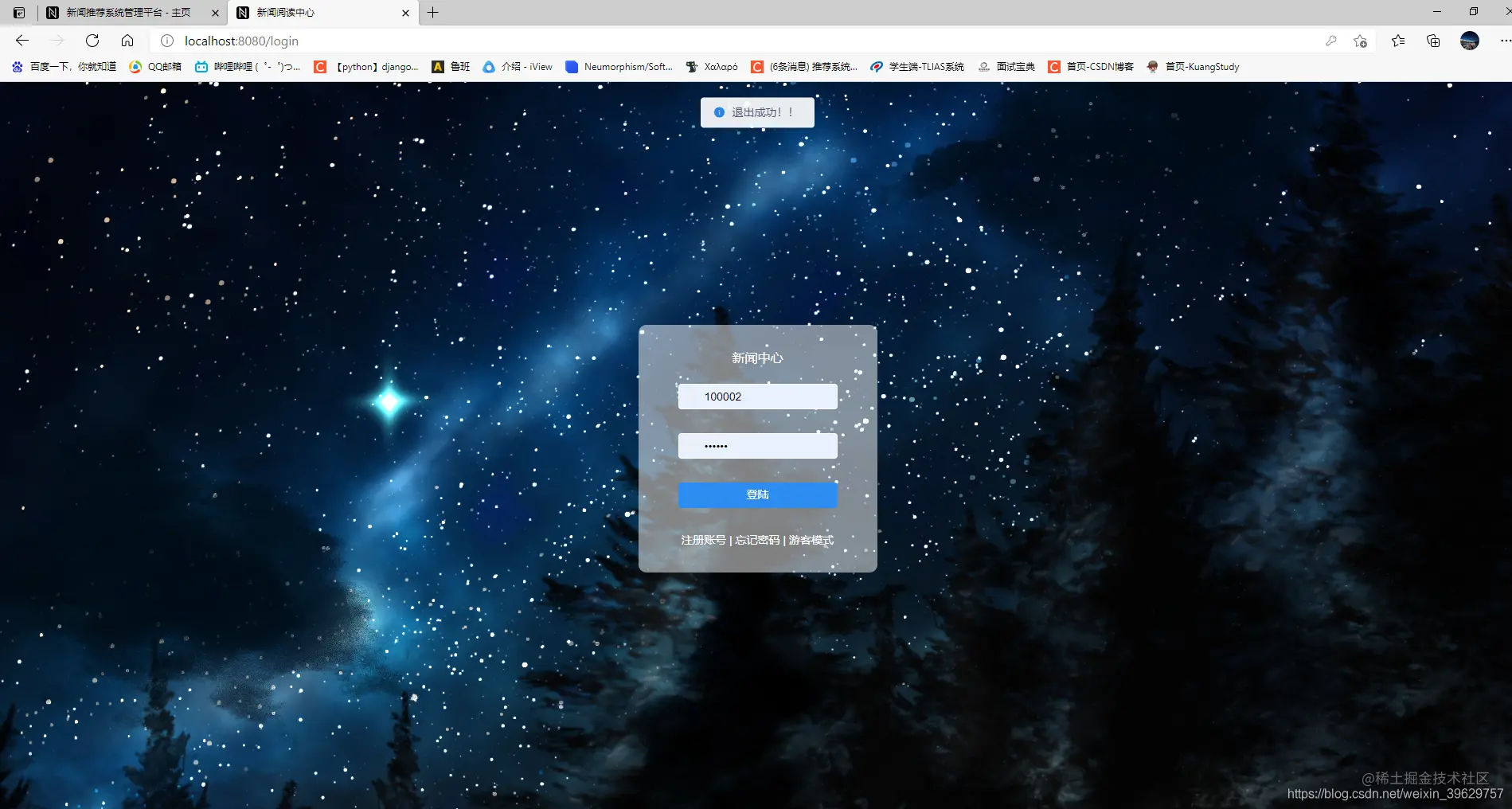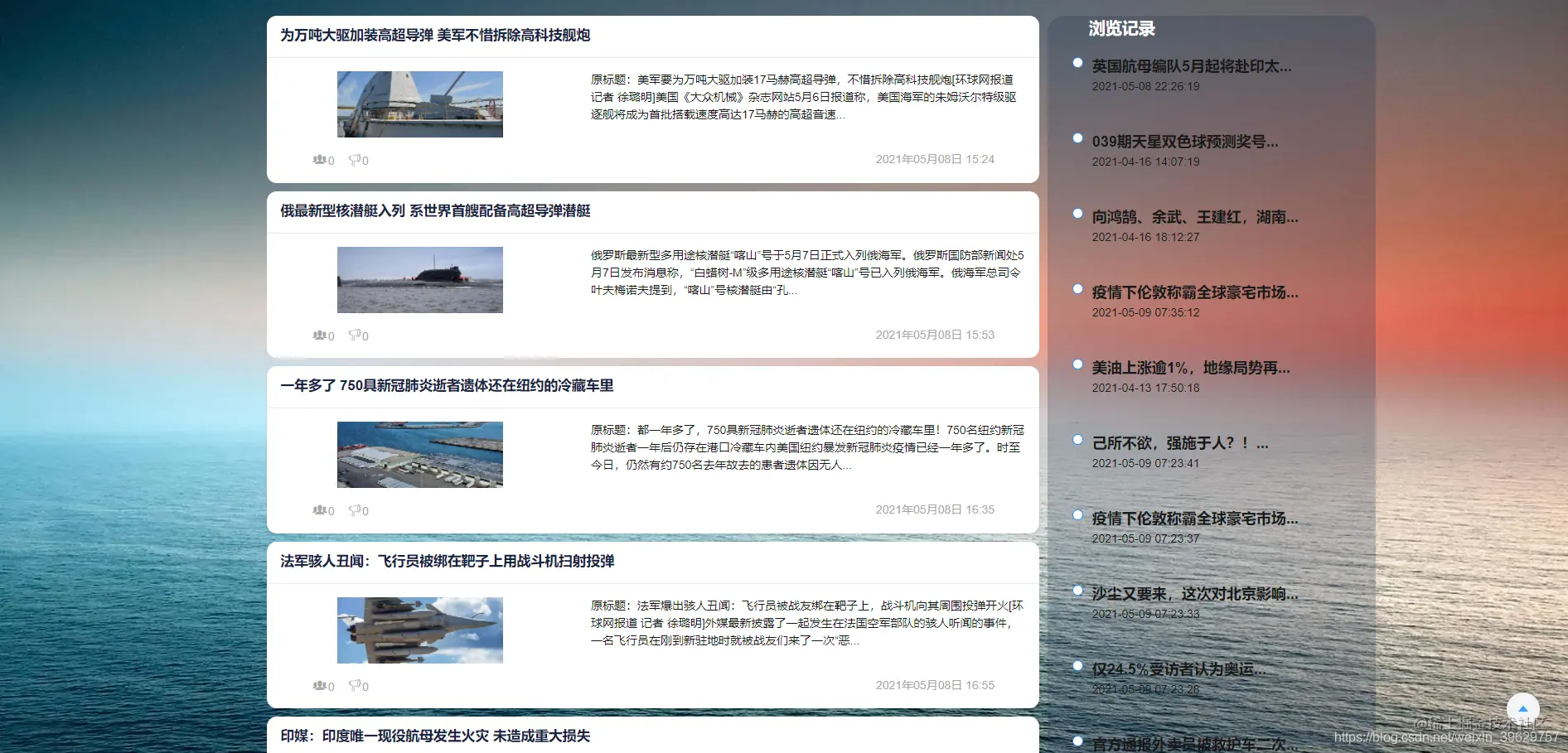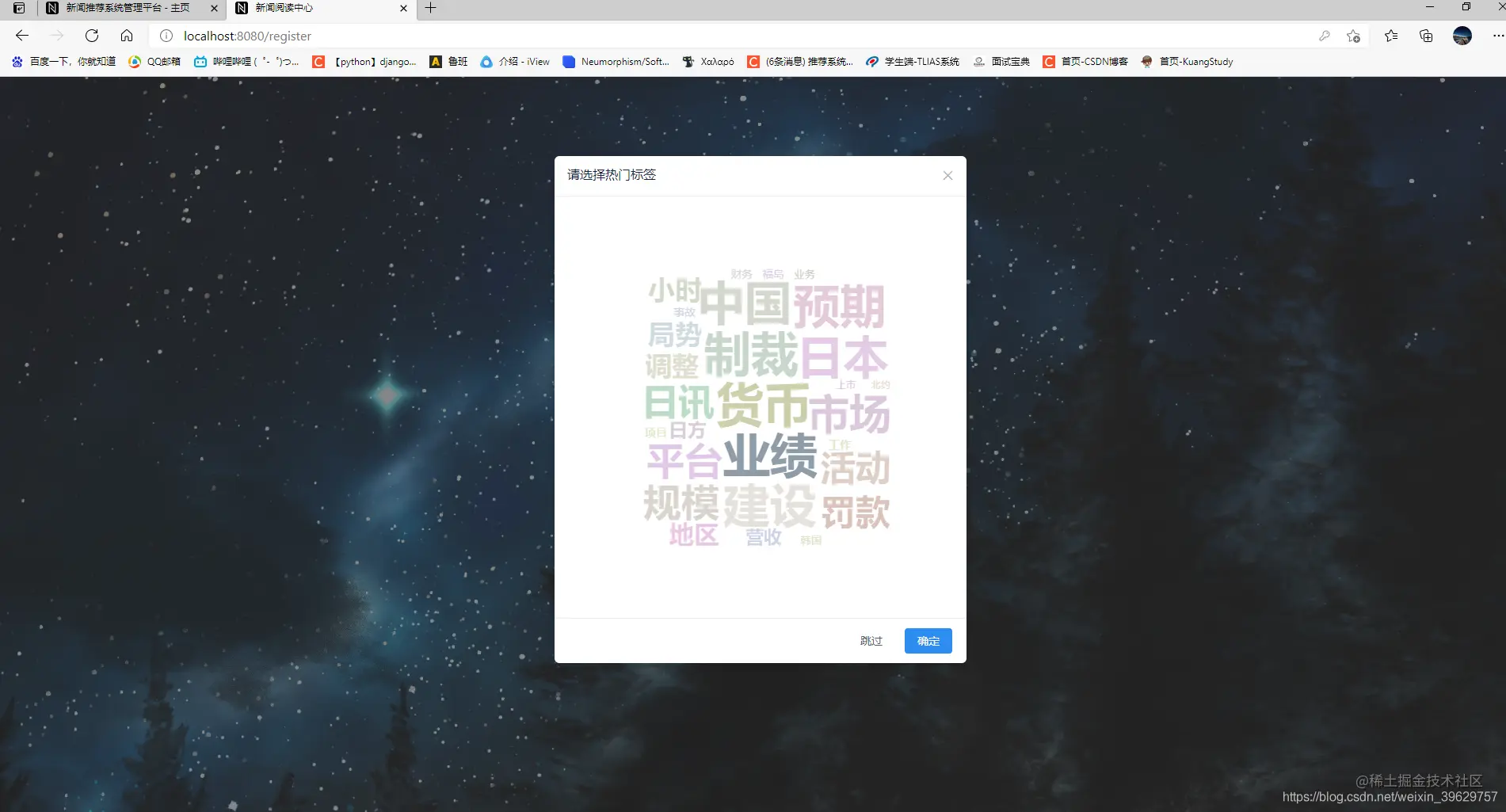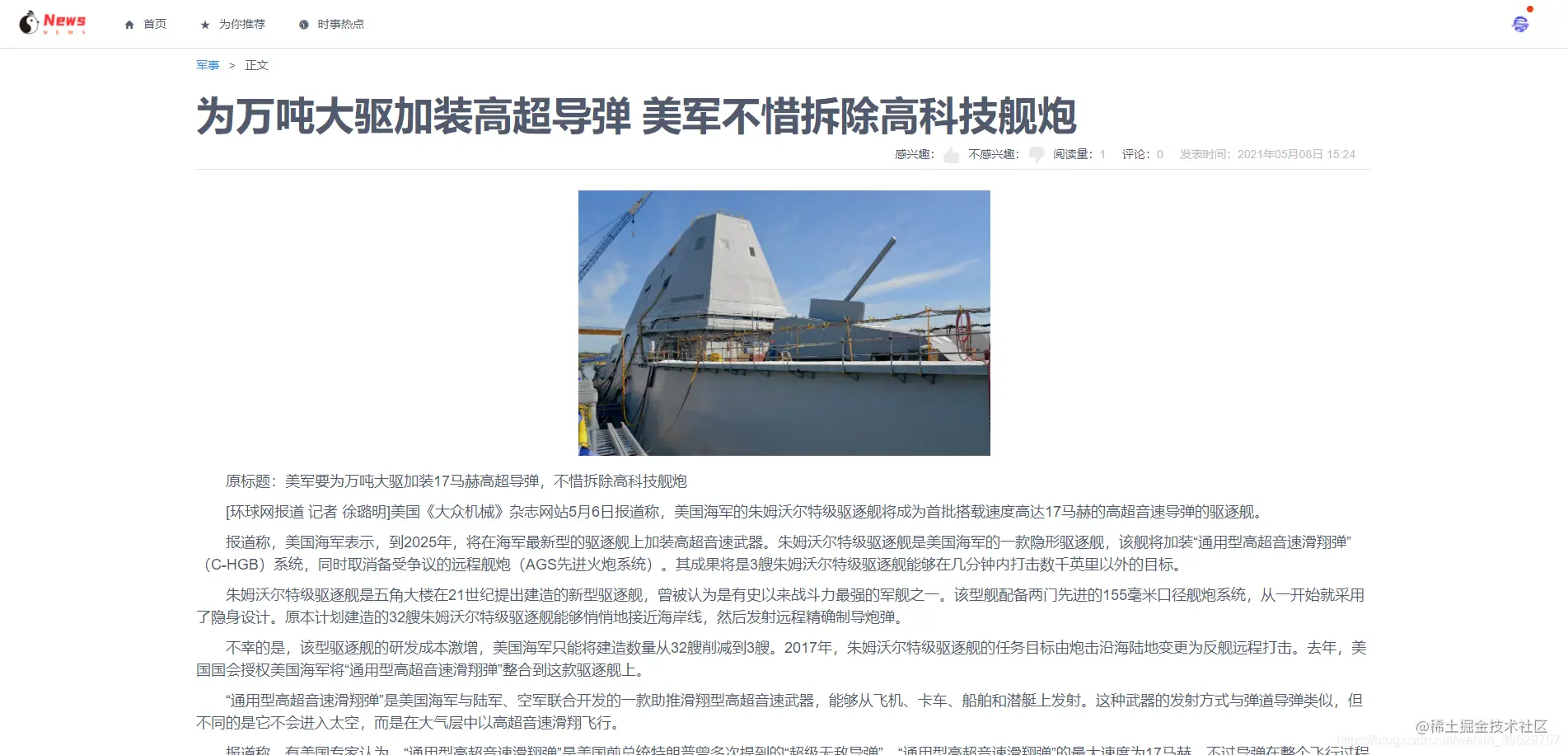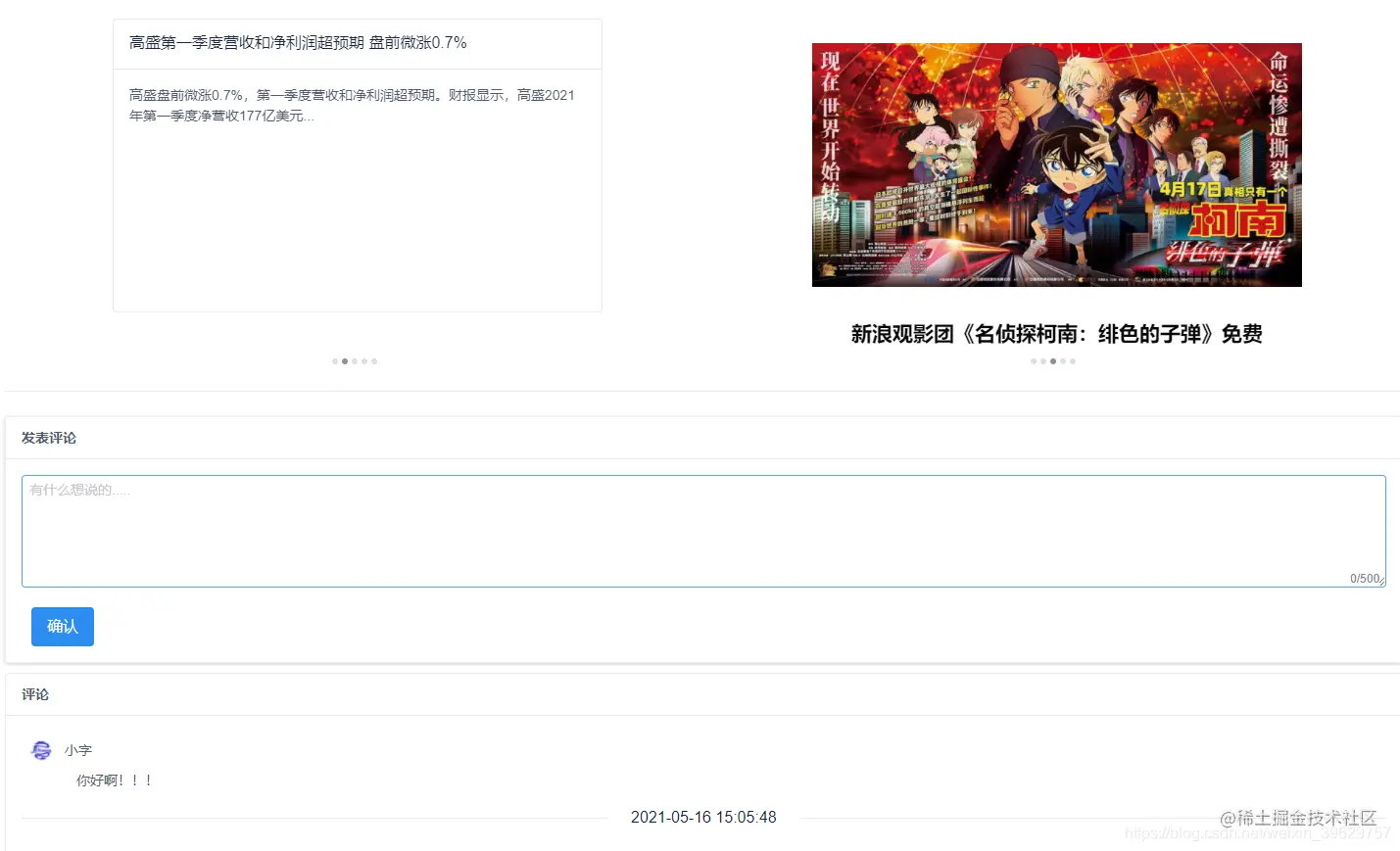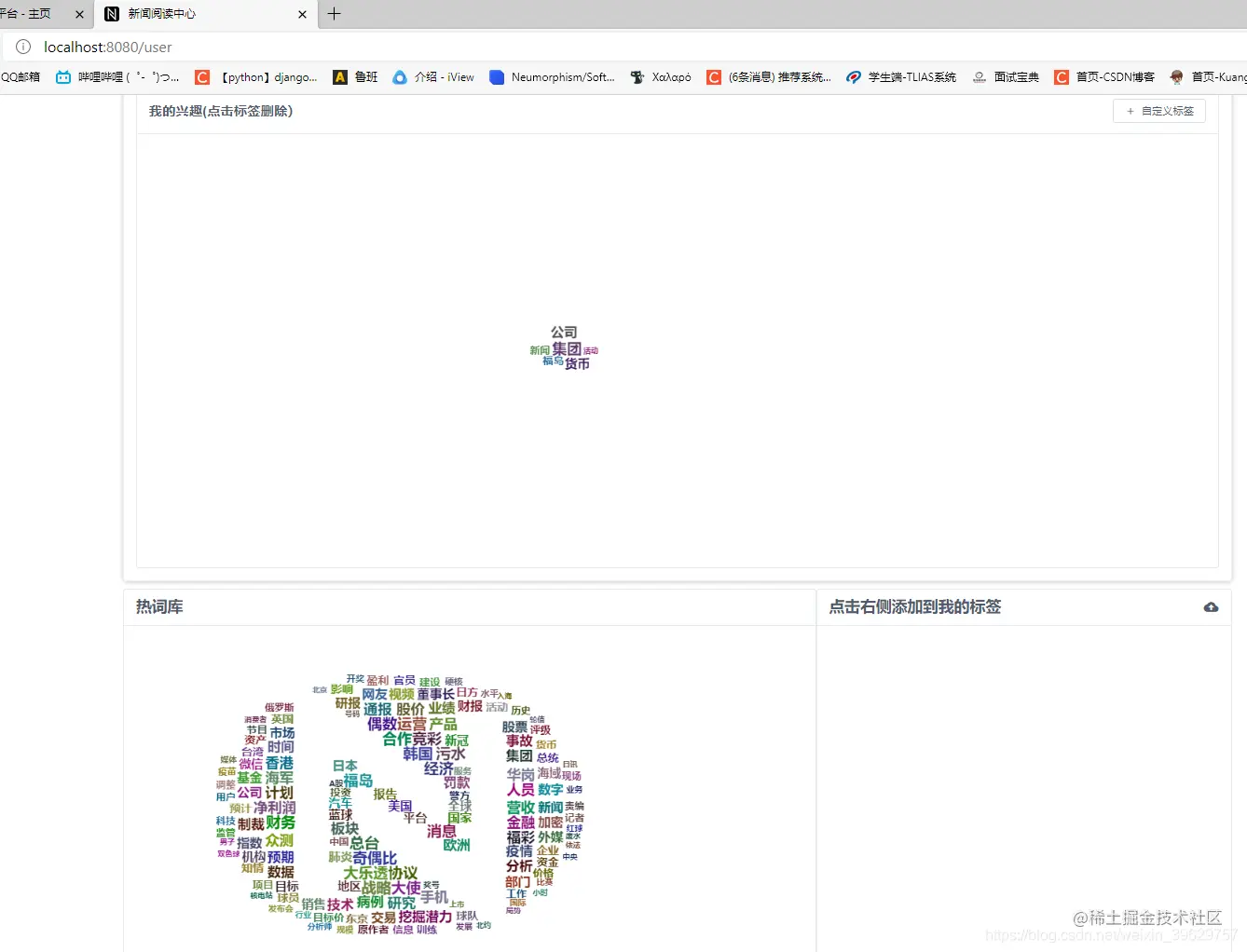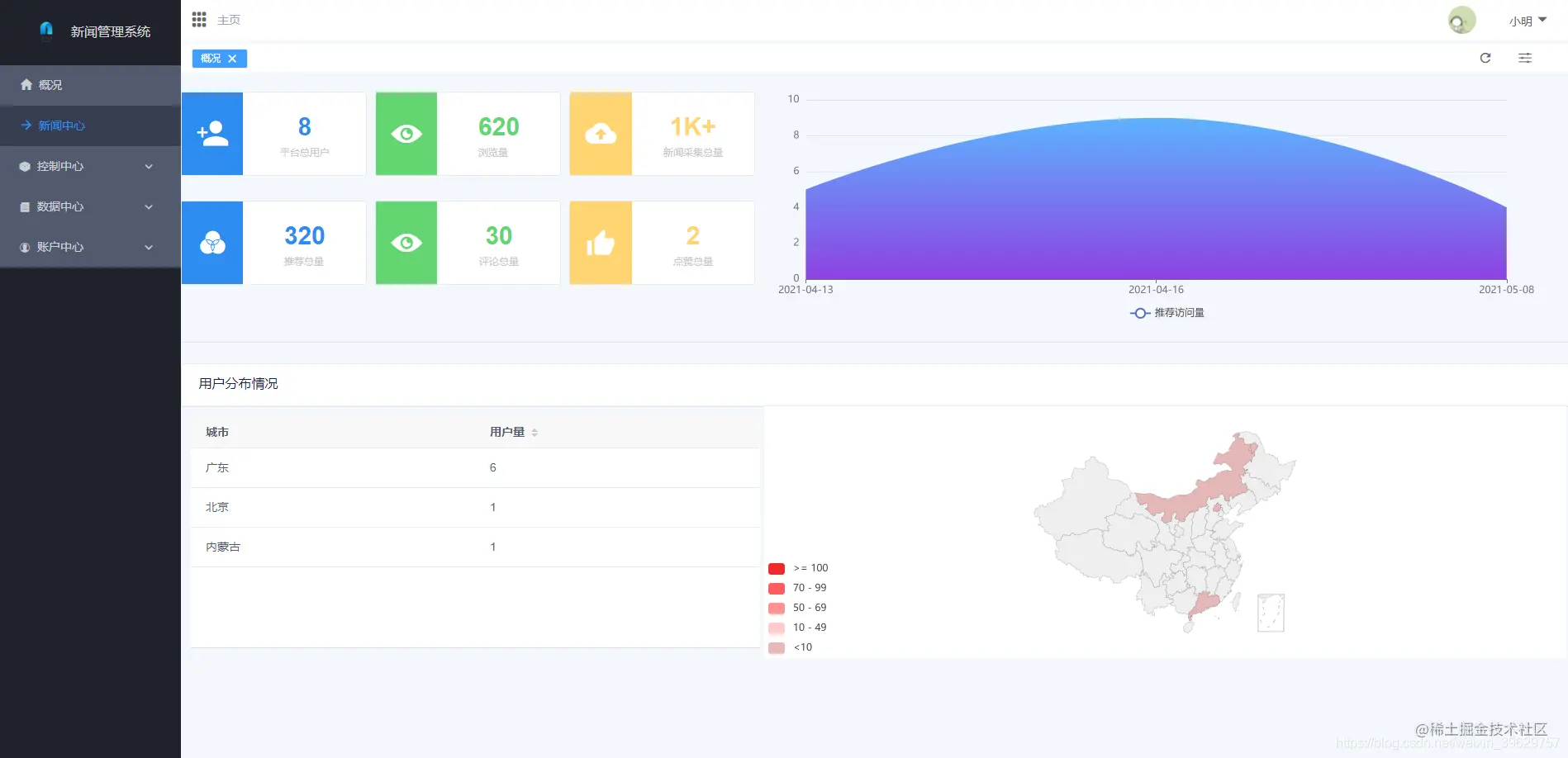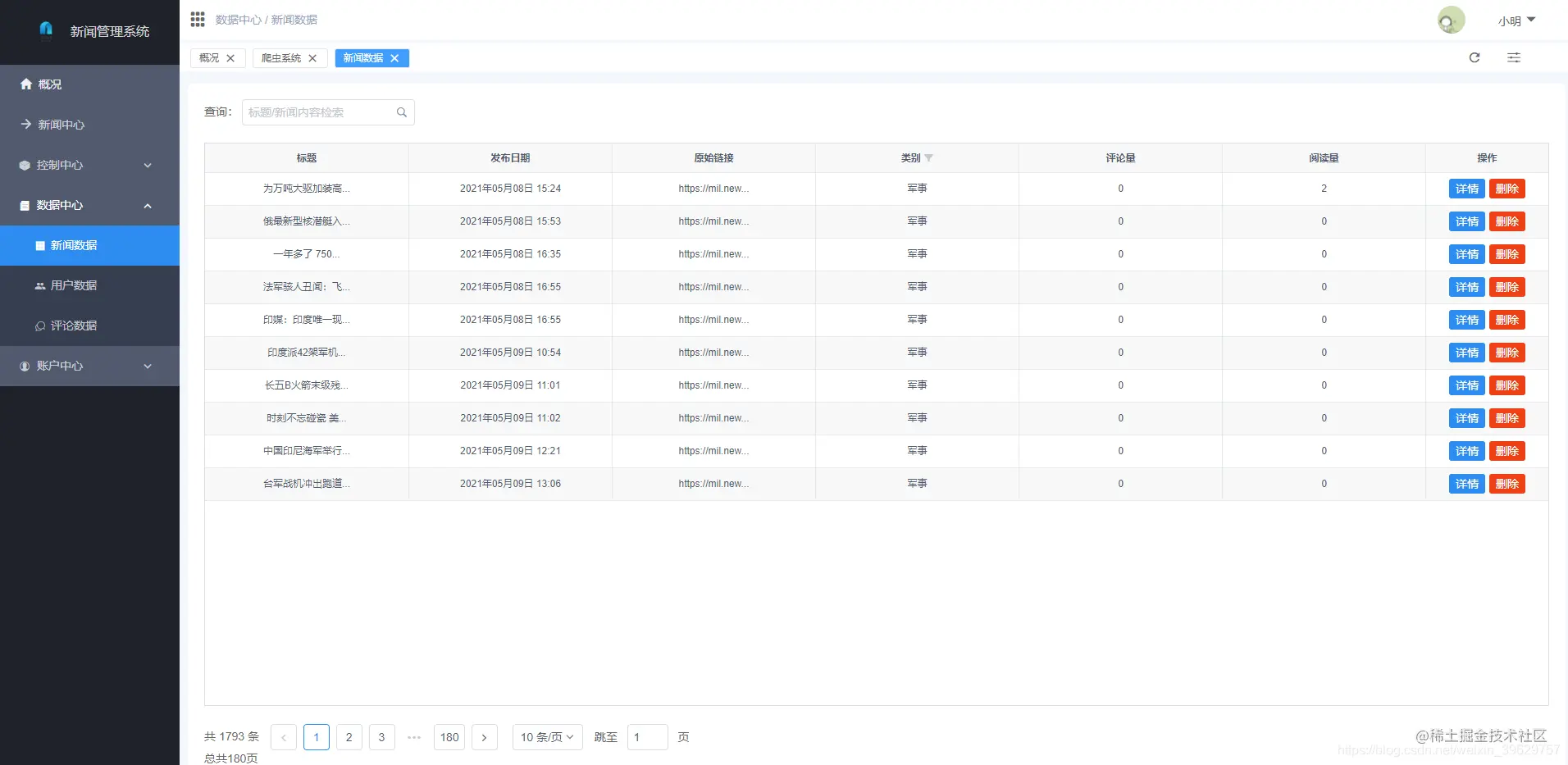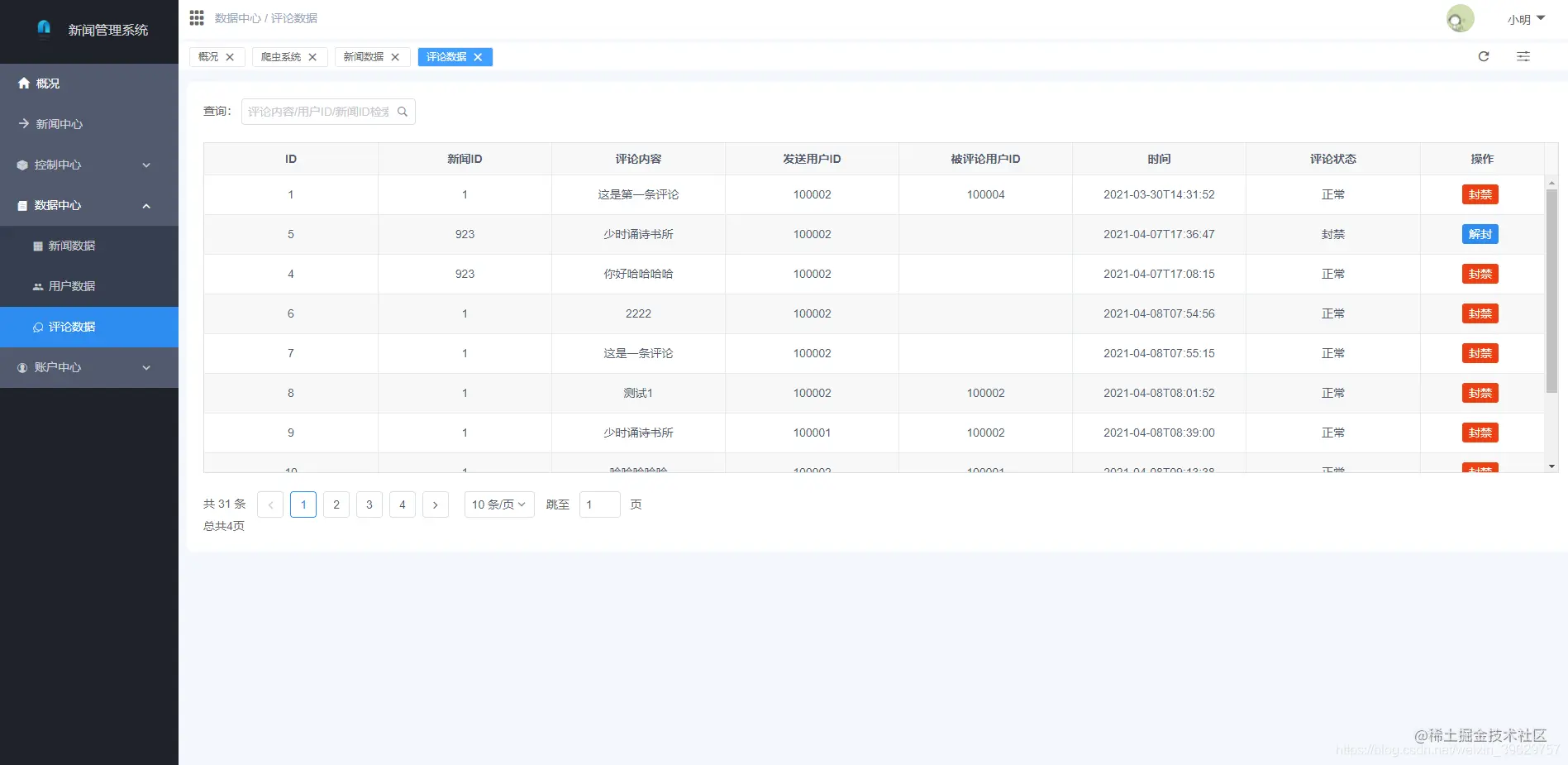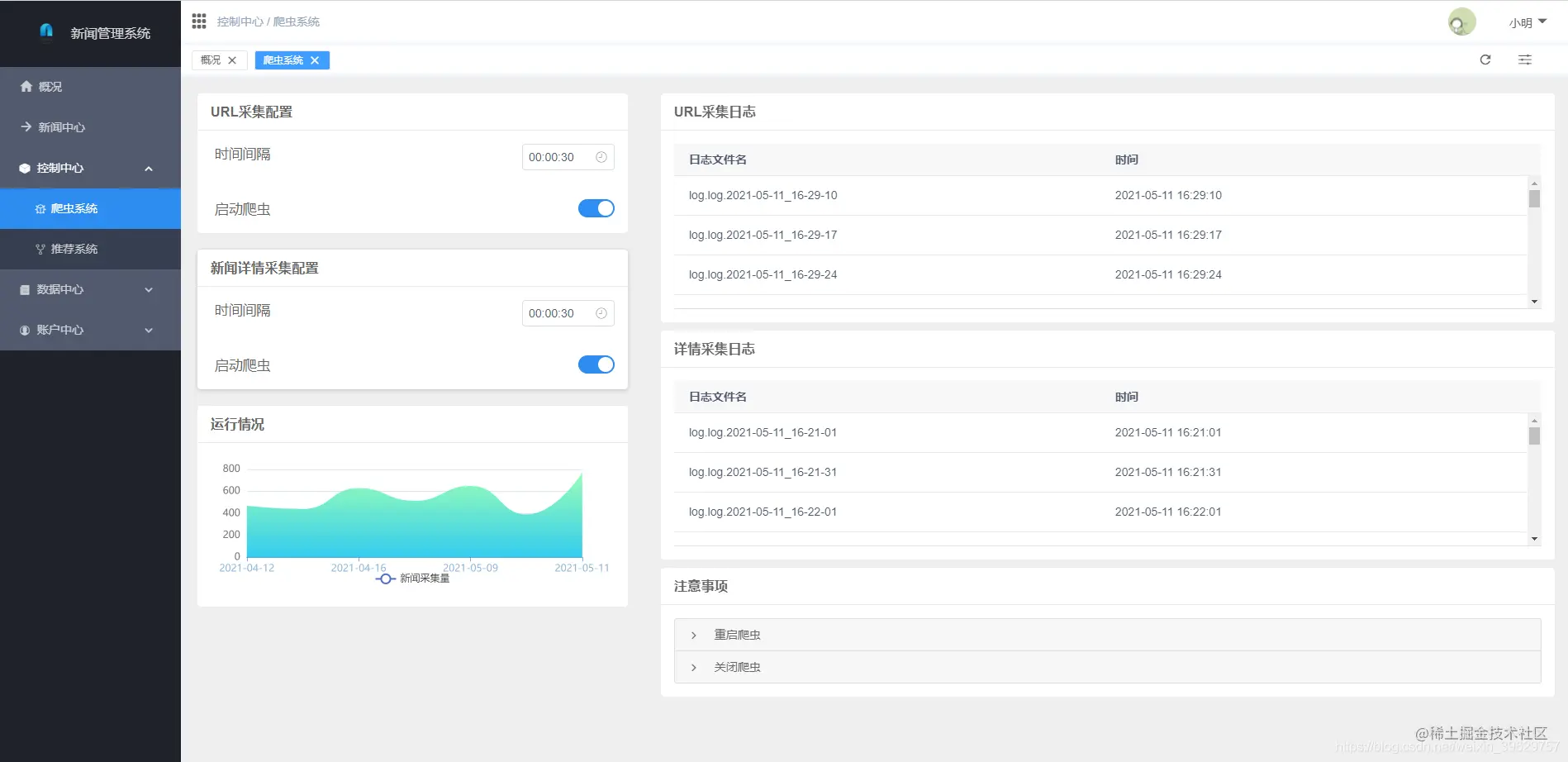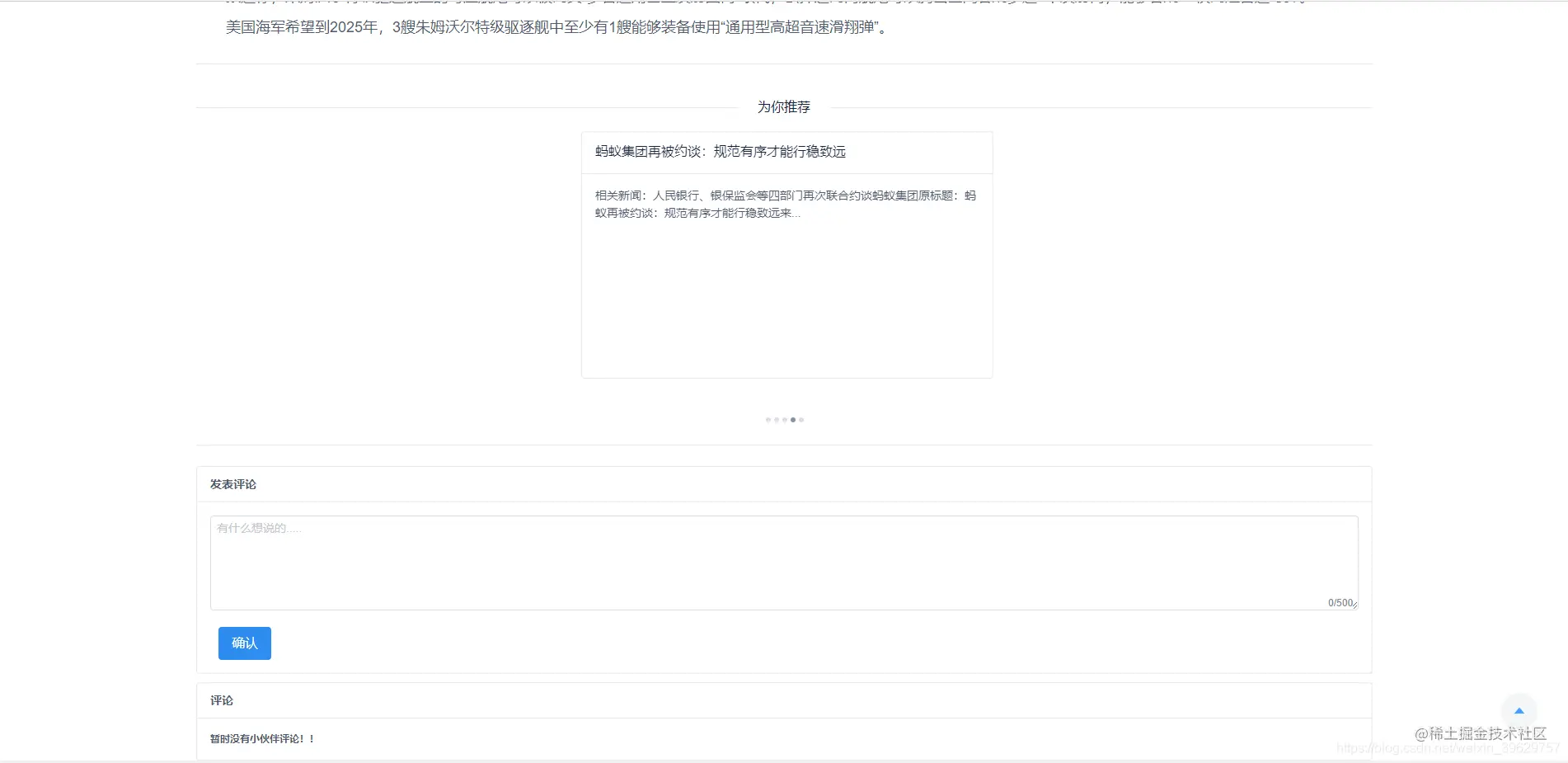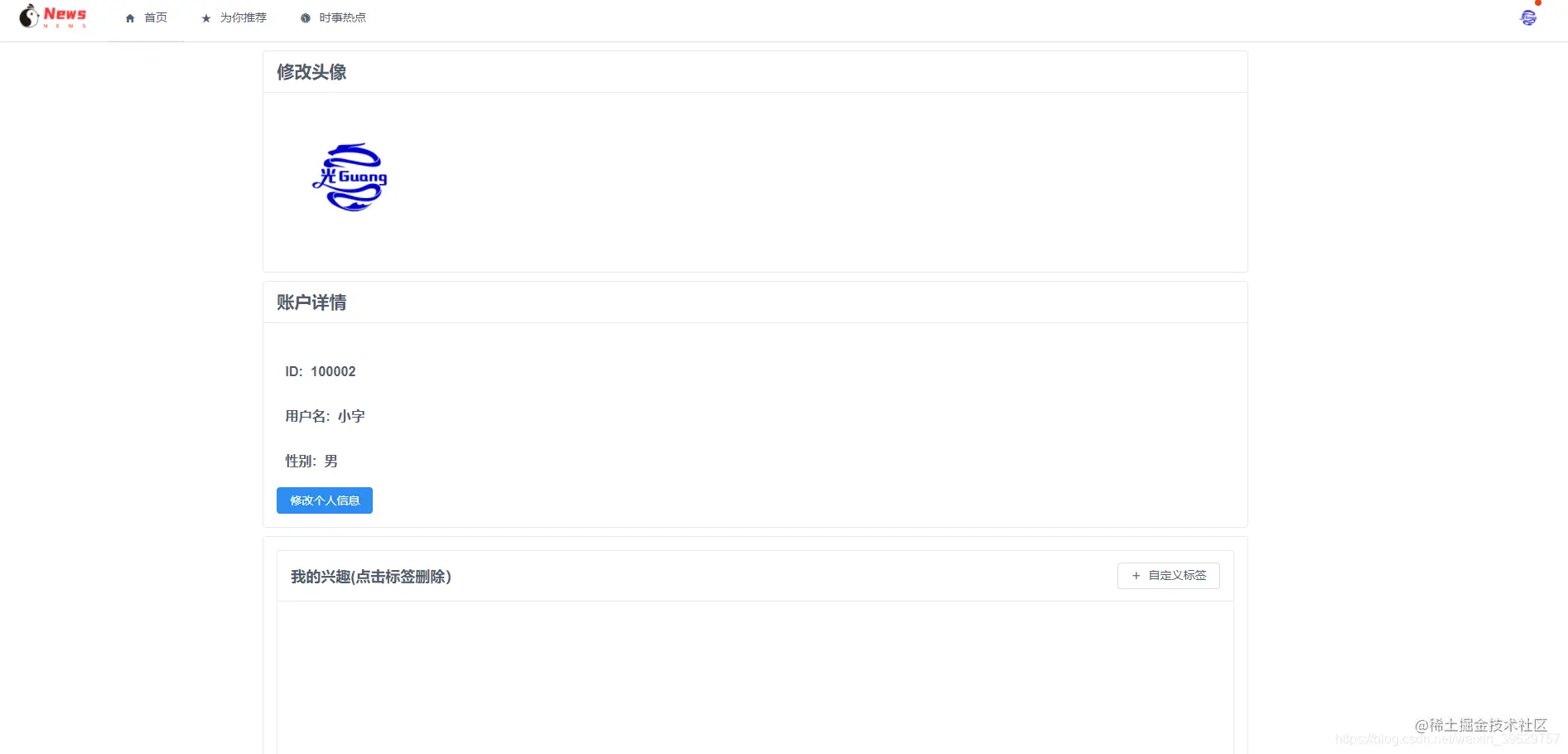 Two 、 Use steps
1. install Python rely on
The code is as follows :
pip install -r requirements.txt


#(requirements.txt The file has been included in the root directory of the source code )




 Copy code 
2. install Vue.js rely on
The front page is through Vue.js Compiling , It's using Vue Scaffolding ( Baidu installed it without )
npm install


 Copy code 
In the front page, the user side and the management side are two separate items , Therefore, you need to perform dependency installation under both projects !
3. Database creation / Data import
The database table is as follows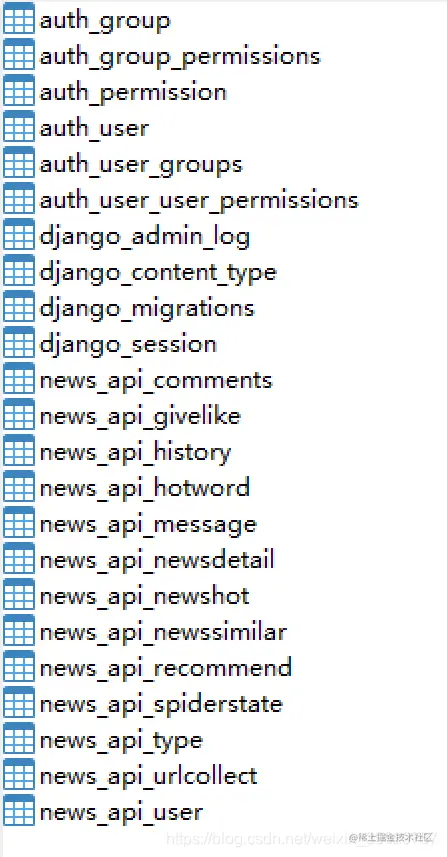 SQL The file has been put in Django Project root directory , On their own Navicat Or other methods . remove Django Data table automatically generated by the framework , All that's left 13 A watch , It's too much trouble to add foreign key dependencies , So it may not be standardized . And for the first time Django To do the project , So for ORM I'm not familiar with the operation of , So that the subsequent multi table query can only be split into single table query , Mainly because Django The multi table query of requires intermediate tables as auxiliary operations , But when I was working on this project , The database has already been established , And the reptile part has been written , The relationship between time and time will not be overturned and reopened .
4. Database configuration
Use global search to find mysql You can find where you need configuration data . Because the whole framework is scattered and not synchronized in the same period , The configuration of the database is somewhat fragmented QAQ.....
DATABASES = {
    

'default'

: {
        

'ENGINE'

: 

'django.db.backends.mysql'

,
        

'NAME'

: 

'news'

,
        

'USER'

: 

'root'

,
        

'PASSWORD'

: 

'root'

,
        

'HOST'

: 

'127.0.0.1'

,
        

'PORT'

: 

'3306'

,
    }
}


 Copy code 
---
5. Start project
Django Project start
#  Get into newsapi The catalog of 


python manage.py runserver 

0.0

.0

.0

:

8000




 Copy code 
Vue Project start
// User side 


npm run dev 


// The management end 


npm run serve


 Copy code 
summary
On the whole, the completion degree of this project is relatively high , There are still Bug The two system controllers at the management end fail to brake from time to time , This is essentially because after the thread starts , For the control of task management, you can only cancel the interval task , But you can't close the thread directly . Another document is the structure of the project, which sounds chaotic , Find time to rearrange . The source code of the project has been updated , You can download it if you need it Welcome to submit questions and errors
copyright notice
author[z812483032],Please bring the original link to reprint, thank you.
https://en.pythonmana.com/2022/02/202202020641553438.html