Python actual combat case, mplcyberpunk module, python realizes cyberpunk data visualization
2022-02-02 08:09:42 【Dai mubai】
Time is not negative , Create constantly , This article is participating in 2021 Year end summary essay contest
Preface
utilize Python Realize cyberpunk data visualization , I don't say much nonsense ~
Let's start happily ~
development tool
Python edition : 3.6.4
Related modules :
mplcyberpunk modular ;
matplotlib modular ;
numpy modular ;
As well as some Python Built in modules .
Environment building
install Python And add to environment variable ,pip Install the relevant modules required .
Cyberpunk 2077》 Is a by CD Projekt RED Developed action character games
The boundary between virtual reality and reality is blurred , Artificial intelligence and man-made people can't be distinguished , The poor and the rich are extremely divided , Terrorism is everywhere .
This issue mainly introduces you to a " Cyberpunk " Style Python library ,mplcyberpunk
adopt pip install
#  install 


pip install mplcyberpunk


 Copy code 
Example 1
import

 matplotlib.pyplot 

as

 plt


import

 mplcyberpunk



#  Add the style 


plt.style.use(

"cyberpunk"

)

plt.plot([

1

, 

3

, 

9

, 

5

, 

2

, 

1

, 

1

], marker=

'o'

)
plt.plot([

4

, 

5

, 

5

, 

7

, 

9

, 

8

, 

6

], marker=

'o'

)



#  Set the line to glow + Area map 


mplcyberpunk.add_glow_effects()
plt.show()


 Copy code 
The area of the line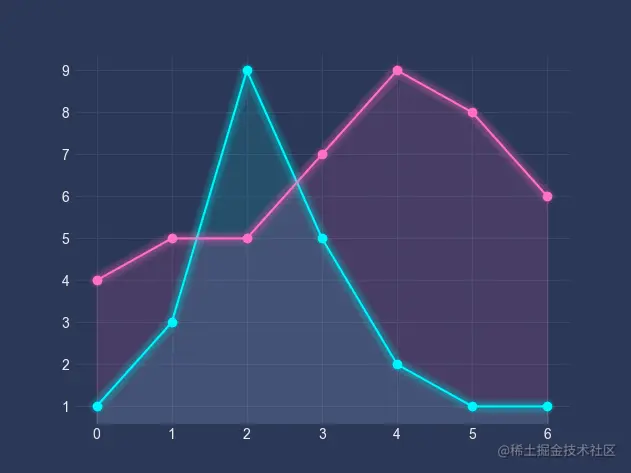 By viewing the source file of the library core.py, Discover two main functions of the library

Use each method once
import

 numpy 

as

 np


import

 mplcyberpunk


import

 matplotlib.pyplot 

as

 plt

plt.style.use(

"cyberpunk"

)



#  data 


x = np.arange(-

7

, 

7

, 

0.1

)
y1 = np.sin(x)
y2 = np.sin(x) + x
y3 = np.sin(x) * x
y4 = np.sin(x) / x
plt.plot(x, y1)
plt.plot(x, y2)
plt.plot(x, y3)
plt.plot(x, y4)



#  Line luminescence 


mplcyberpunk.make_lines_glow()


#  Area map 


mplcyberpunk.add_underglow()



#  Save the picture 


plt.savefig(

"defalut.png"

)


 Copy code 
Second, the default format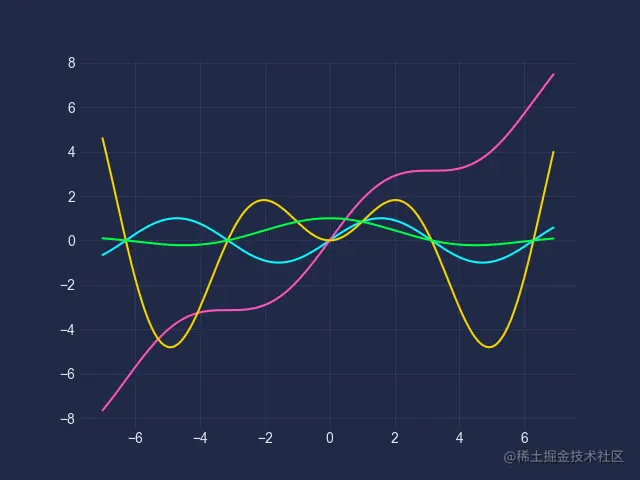 Add line glow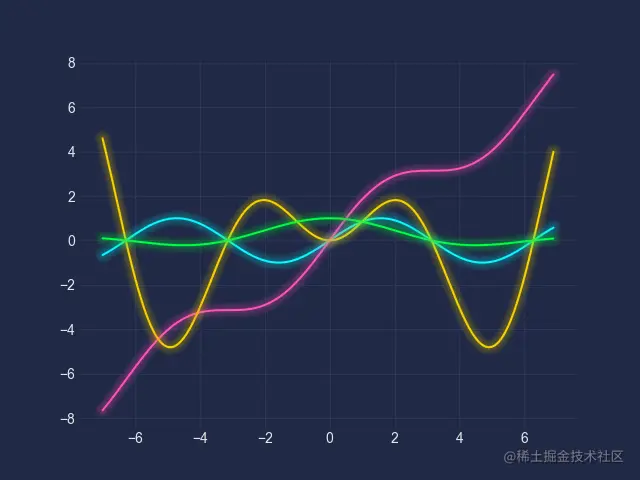 Line luminescence + Area map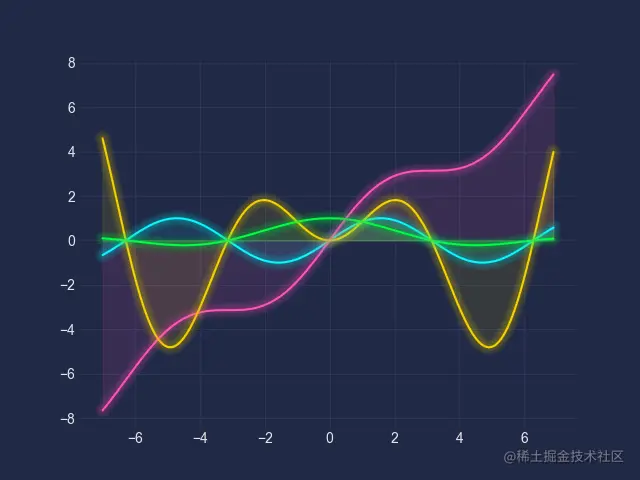 import

 matplotlib.pyplot 

as

 plt


from

 matplotlib 

import

 cm


import

 mplcyberpunk


import

 numpy 

as

 np



# time


t = np.arange(

0

, 

6.4

, 

0.1

)


# frequency


f = 

1


amplitudes = np.arange(-

10

, 

11

, 

1

)


# amplitude


A = [x * np.cos(f*t) 

for

 x 

in

 amplitudes]



#  Set color style ,cool、spring、winter、tab20、coolwarm


colormap_sect = np.linspace(

0

, 

1

, 

len

(amplitudes))
colors = [cm.coolwarm(x) 

for

 x 

in

 colormap_sect]

plt.rcParams[

'figure.figsize'

] = [

6

, 

4

]
plt.style.use(

"cyberpunk"

)
plt.xlim(right=

6.3

)



for

 i 

in

 

range

(

21

):
    plt.plot(t, A[i], color=colors[i])
mplcyberpunk.make_lines_glow()



#  Title name ,cool、spring、winter、tab20、coolwarm


plt.title(

"Colormap: 'coolwarm'"

)
plt.savefig(

"colormap.png"

)


 Copy code 
5 A chart of color schemes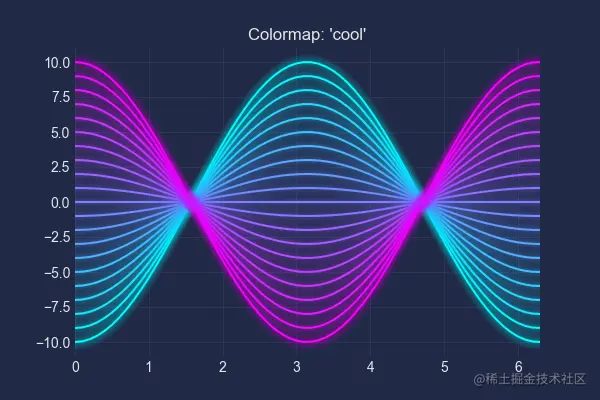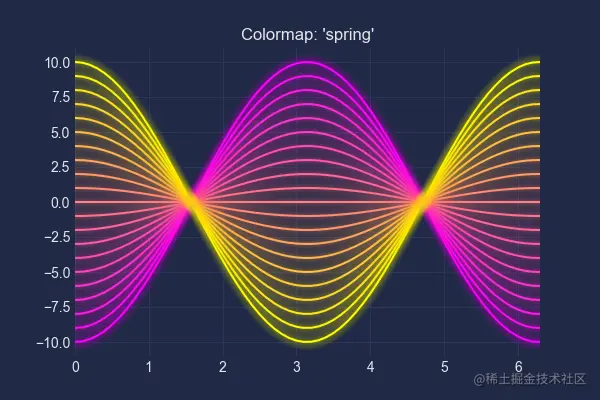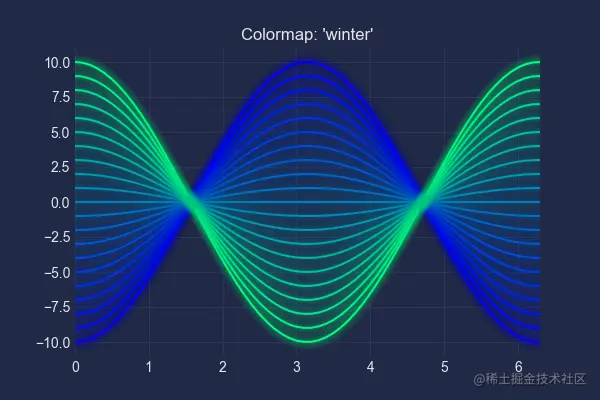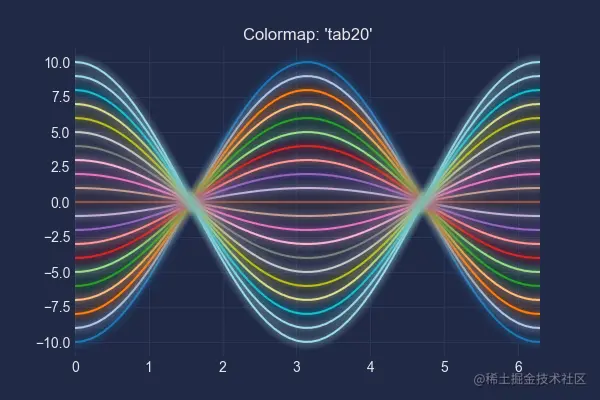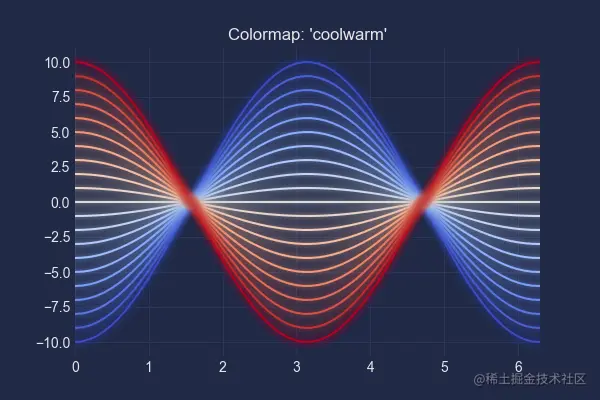 What we use is ridge_map A map of the ridge
#  install 


pip install ridge_map


#  Dependency of installation Library 


pip install scikit-image==

0.14

.2




 Copy code 
We need to pay attention to , install scikit-image You need to specify 0.14.2 edition , Otherwise, an error will be reported
import

 matplotlib.font_manager 

as

 fm


import

 matplotlib.pyplot 

as

 plt


from

 ridge_map 

import

 RidgeMap


import

 mplcyberpunk



#  Cyberpunk style 


plt.style.use(

"cyberpunk"

)



#  Chinese display 


plt.rcParams[

'font.sans-serif'

] = [

'SimHei'

]  

# Windows


plt.rcParams[

'font.sans-serif'

] = [

'Hiragino Sans GB'

] 

# Mac


plt.rcParams[

'axes.unicode_minus'

] = 

False





#  typeface 


font_prop = fm.FontProperties(fname=

" Fang Zheng LAN Ting published black .ttf"

)



#  get data , Special skills are needed here to succeed 


rm = RidgeMap(bbox=(-

156.250305

, 

18.890695

, 

154.714966

, 

20.275080

), font=font_prop)



#  Set the number of lines , toward , And other properties 


values = rm.get_elevation_data(num_lines=

200

, viewpoint=

'north'

)
values = rm.preprocess(values=values,
                       water_ntile=

10

,
                       vertical_ratio=

240

)



#  Set title , line color , Background color, etc 


rm.plot_map(values, label=

" Hawaii "

, kind=

'gradient'

, line_color=plt.get_cmap(

'spring'

), background_color=

'#212946'

)
plt.savefig(

' Hawaii .png'

)


 Copy code 
Ridge map of Hawaii Island , Punk style is full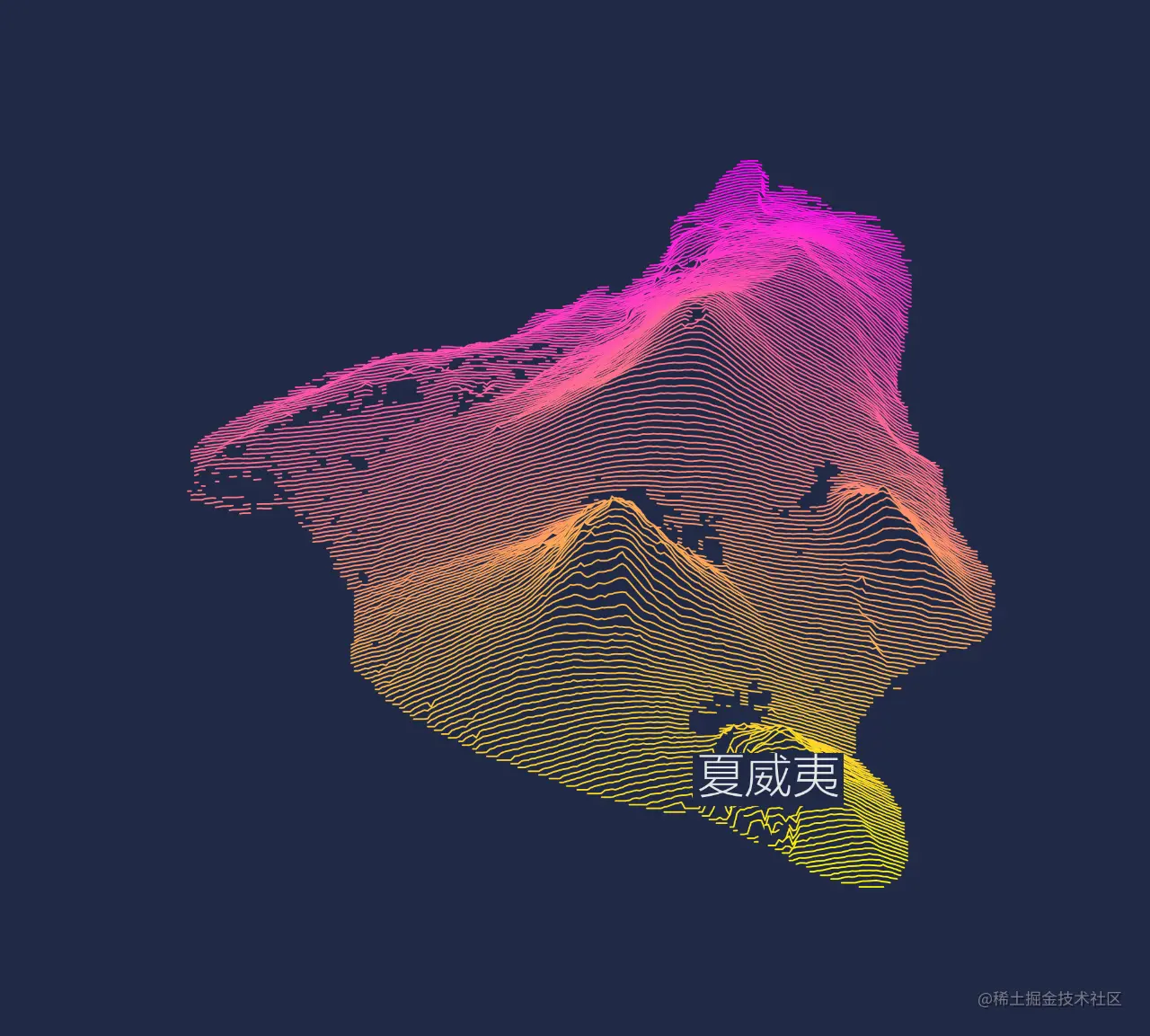 World map and European map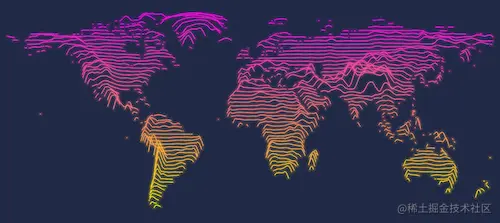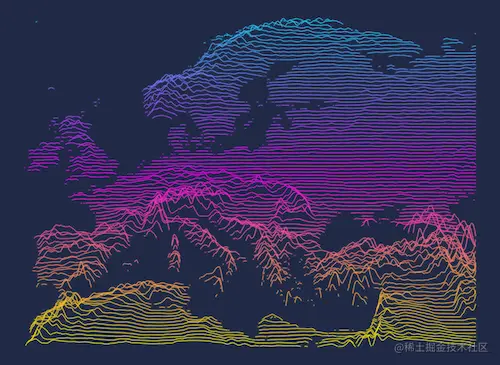 Taiwan Province
import

 matplotlib.font_manager 

as

 fm


import

 matplotlib.pyplot 

as

 plt


from

 ridge_map 

import

 RidgeMap


import

 mplcyberpunk



#  Cyberpunk style 


plt.style.use(

"cyberpunk"

)



#  Chinese display 


plt.rcParams[

'font.sans-serif'

] = [

'SimHei'

]  

# Windows


plt.rcParams[

'font.sans-serif'

] = [

'Hiragino Sans GB'

] 

# Mac


plt.rcParams[

'axes.unicode_minus'

] = 

False





#  typeface 


font_prop = fm.FontProperties(fname=

" Fang Zheng LAN Ting published black .ttf"

)



#  get data , Special skills are needed here to succeed 


rm = RidgeMap(bbox=(

122.014

, 

25.344

, 

120.036

, 

21.902

), font=font_prop)



#  Set the number of lines , toward , And other properties 


values = rm.get_elevation_data(num_lines=

200

, viewpoint=

'north'

)
values = rm.preprocess(values=values,
                       water_ntile=

10

,
                       vertical_ratio=

240

)



#  Set title , line color , Background color, etc 


rm.plot_map(values, label=

" Taiwan Province "

, kind=

'gradient'

, line_color=plt.get_cmap(

'spring'

), background_color=

'#212946'

)
plt.savefig(

' Taiwan Province .png'

)


 Copy code 
Latitude and longitude coordinates , It can be obtained through Tencent location service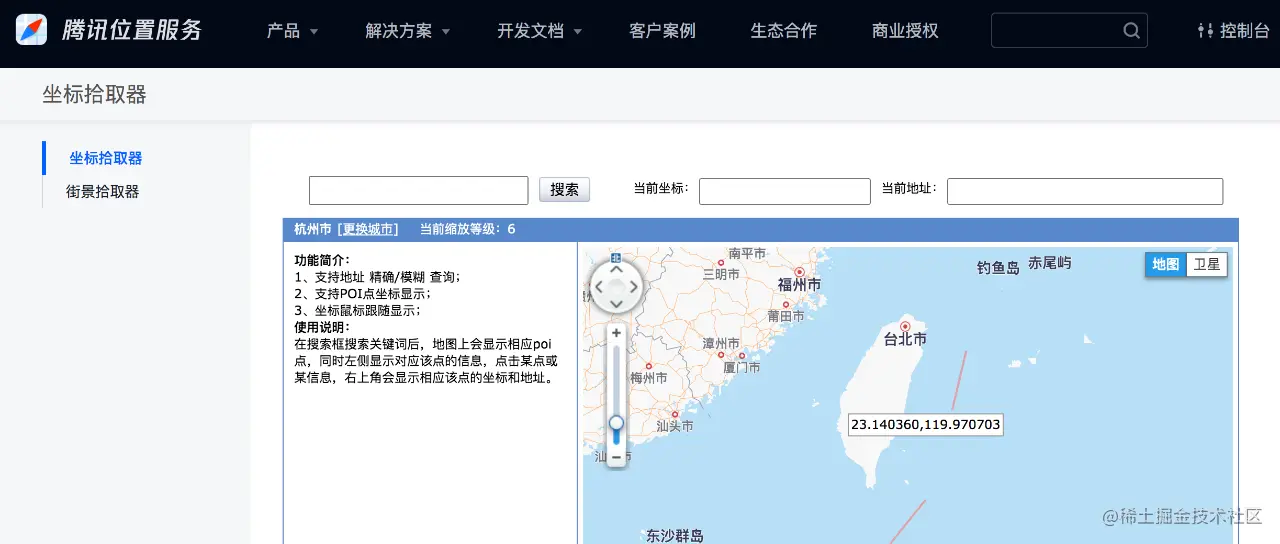 Ridge line map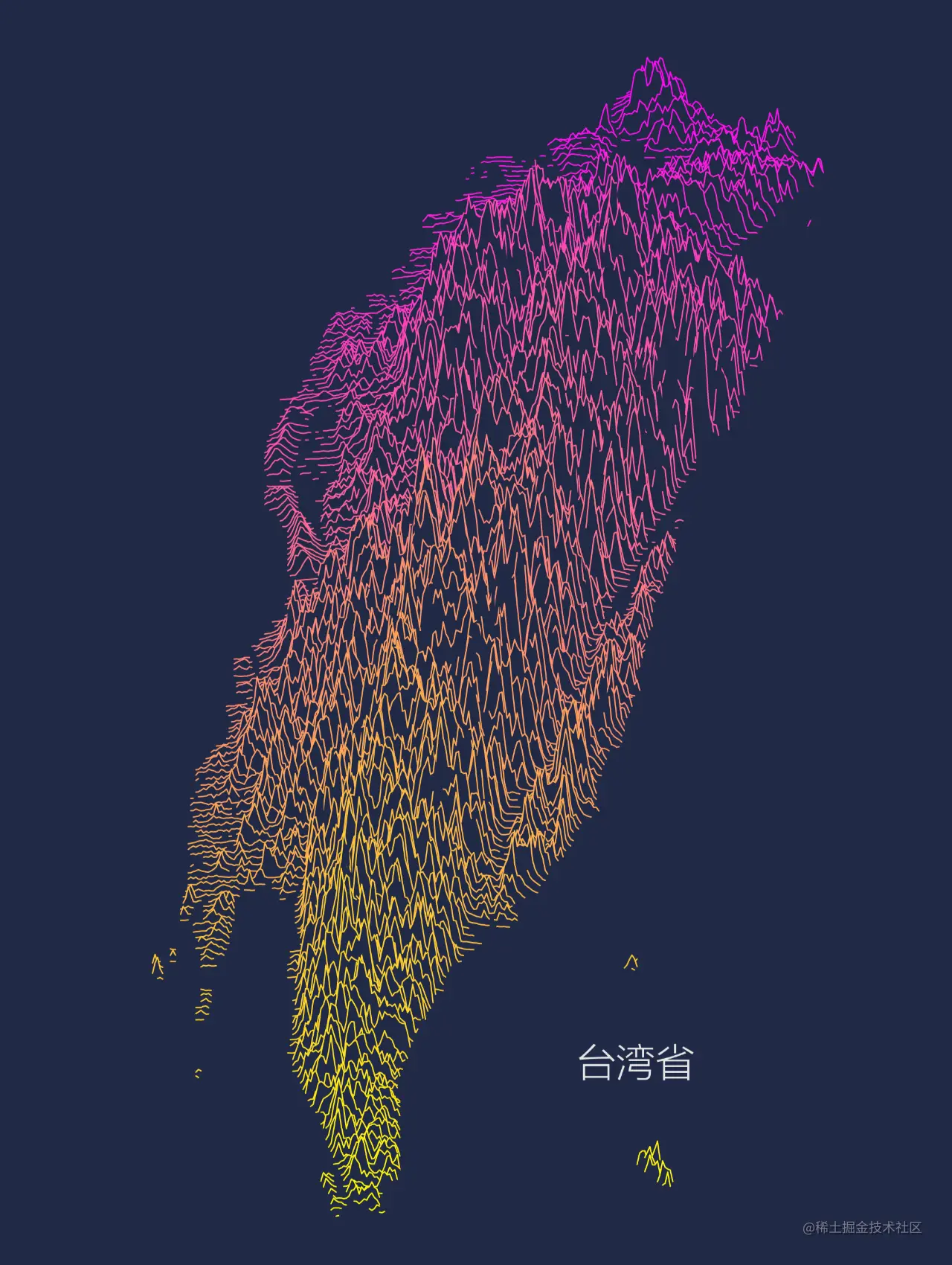 copyright notice
author[Dai mubai],Please bring the original link to reprint, thank you.
https://en.pythonmana.com/2022/02/202202020809407686.html